Vulnerability to Forced Labour and Trafficking: The case of Romanian women in the agricultural sector in Sicily
Keywords:
labour exploitation, sexual exploitation, European Union citizen migrants, female migrants, farm workers, human trafficking, forced labour, vulnerability, Italy, Romania
Abstract
This paper focuses on labour and sexual exploitation faced by Romanian female workers employed in the agricultural sector in Ragusa, Sicily, Italy. Drawing on fieldwork conducted in 2013 and 2014 with Romanian female farm workers in Ragusa, the paper identifies factors that contribute towards their vulnerability to exploitation. By paying specific attention to the experiences of women who are mothers with dependent children, we look at structural factors that increase their vulnerability and consider how this vulnerability 'forces' women into situations whereby they effectively accept and/or submit to abuse. We also highlight how European Union (EU) citizenship does not automatically protect migrants from such abuse. This is important because, as we argue, the mistreatment experienced by participants in this study can be regarded as cases of forced labour and trafficking, based on International Labour Organization (ILO) indicators[1] and the definition of trafficking provided by the Directive 2011/36/EU. For a long time, these cases have mostly been neglected by incompetent authorities or addressed using only repressive and assistentialist approaches. Thus, this paper also investigates the limits and potentialities of the Italian legal framework on trafficking, and the ways local institutions and organisations confront the rights violations occurring in the agricultural sector. We contend that in order to effectively counter these phenomena, labour rights measures and anti-trafficking interventions have to be combined based on a comprehensive approach aimed not only at assisting victims, but also at tackling the structural factors that create their vulnerability.
[1] ILO, 'ILO Indicators of Forced Labour', International Labour Office, 2012, retrieved 11 August 2015, http://www.ilo.org/wcmsp5/groups/public/---ed_norm/---declaration/documents/publication/wcms_203832.pdf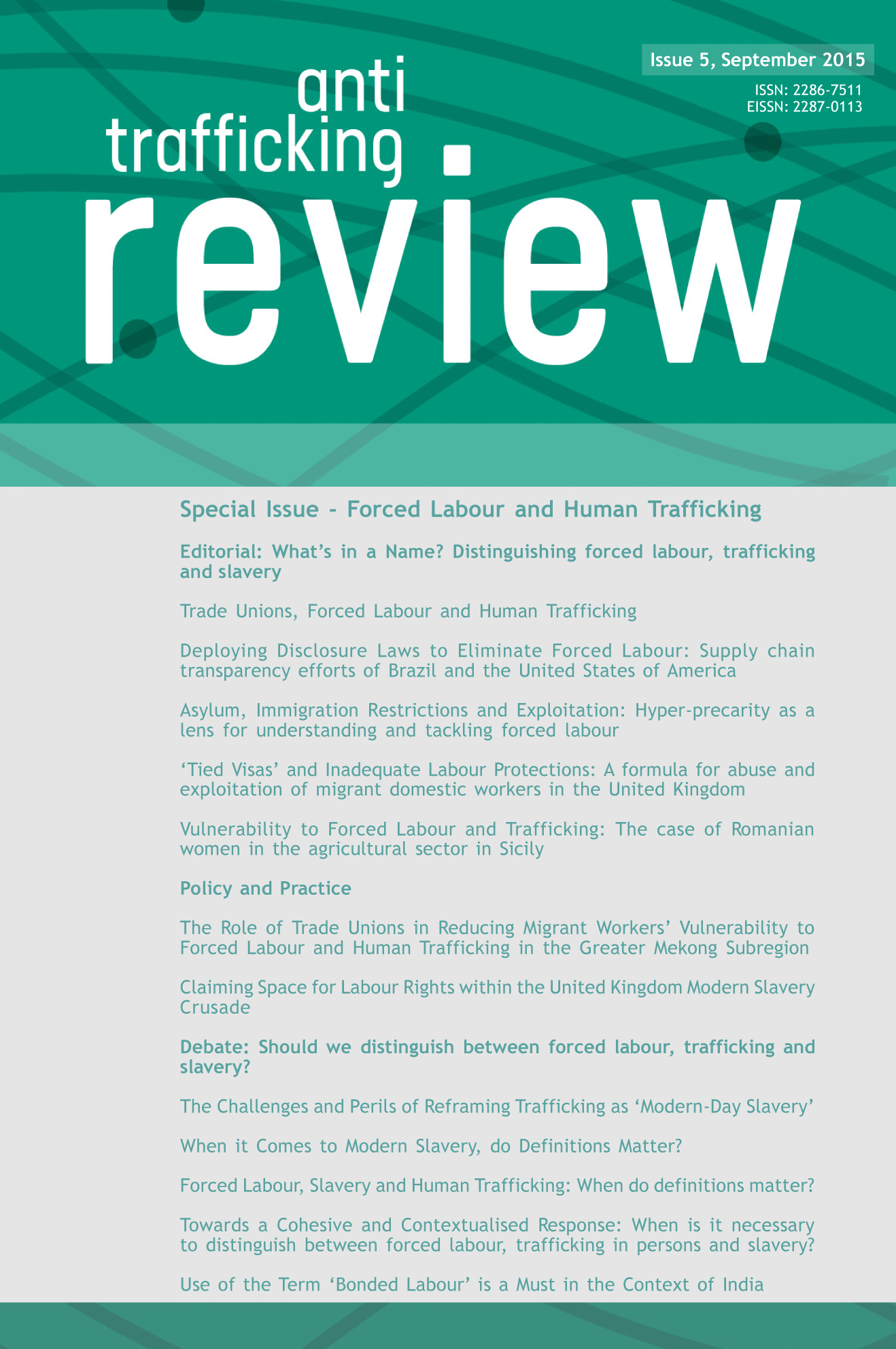 How to Cite
Palumbo, L., & Sciurba, A. (2015). Vulnerability to Forced Labour and Trafficking: The case of Romanian women in the agricultural sector in Sicily. Anti-Trafficking Review, (5). https://doi.org/10.14197/atr.20121556
License
The Anti-Trafficking Review has a policy of licensing under the Creative Commons Attribution License (CC-BY). Under the CC-BY license, the public is free to share, adapt, and make commercial use of the work. To protect our work and that of our authors, however, users must always give proper attribution to the author(s) and the Anti-Trafficking Review (i.e. with a complete bibliographic citation and link to the Anti-Trafficking Review website and/or DOI).
The Anti-Trafficking Review promotes the sharing of information, and we therefore encourage the reproduction and onward dissemination of articles published with us.