Transaction Costs: Prosecuting child trafficking for illegal adoption in Russia
Keywords:
child trafficking, prosecution, Russia, illegal adoption, transactions
Abstract
As primary implementers of laws on human trafficking, law enforcement helps construct how these laws are understood and applied. This article examines how this process has unfolded in Russia by looking at the phenomenon of and debates surrounding child trafficking for illegal adoption. It argues that pre-existing experience with trafficking laws and cultural narratives surrounding adoption have led law enforcement to focus on uncovering evidence of monetary transactions rather than exploitation when prosecuting trafficking cases. This construction of the meaning of trafficking comes with important trade-offs. While the emphasis on transactions helps law enforcement to be successful at prosecuting cases involving selling children for illegal adoption, a focus on transactions rather than exploitation results in a de facto prosecution policy that ignores the many forms of exploitation that occur in other trafficking cases.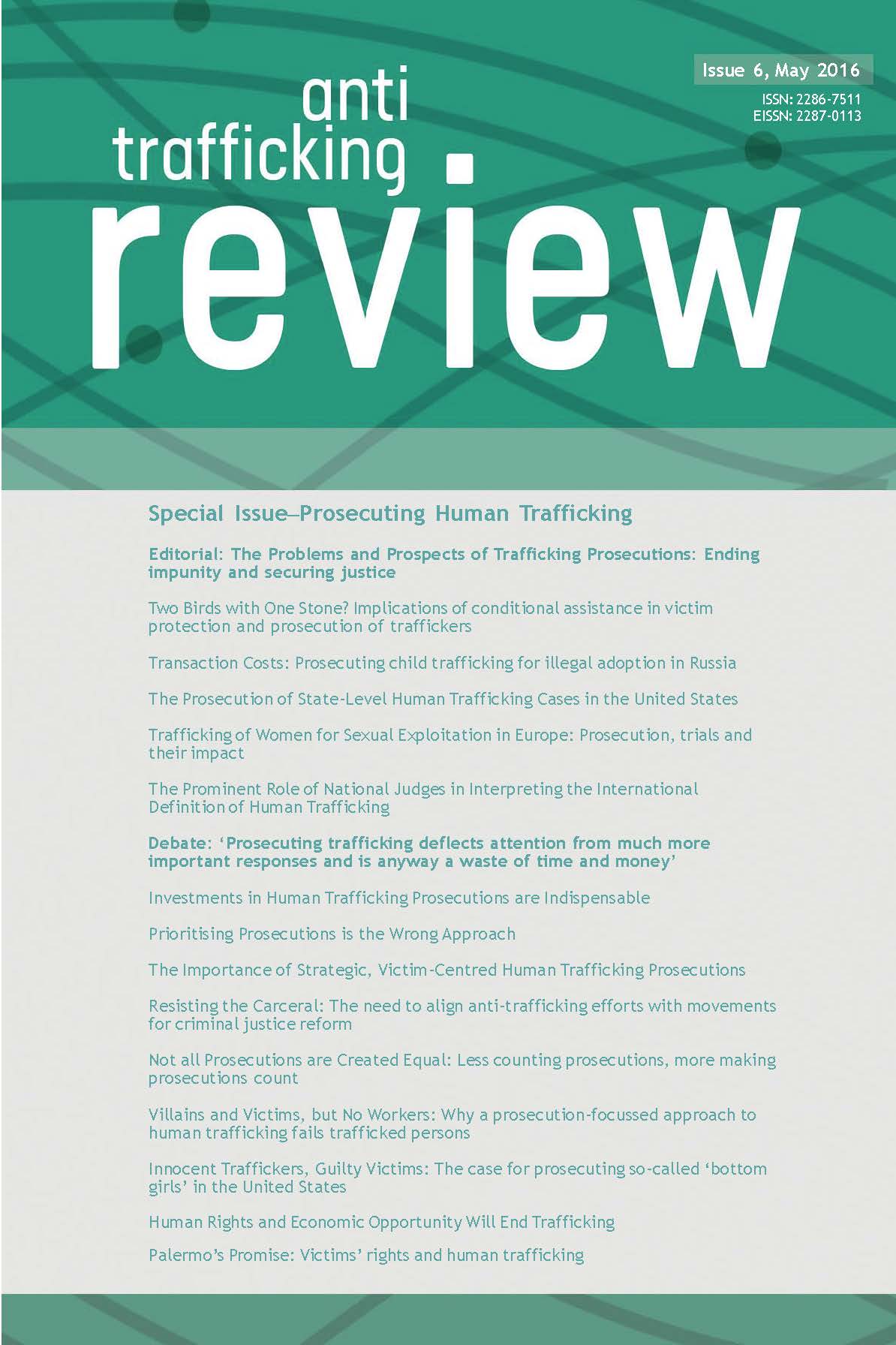 How to Cite
McCarthy, L. A. (2016). Transaction Costs: Prosecuting child trafficking for illegal adoption in Russia. Anti-Trafficking Review, (6), 31–47. https://doi.org/10.14197/atr.20121663
License
This work is licensed under a Creative Commons Attribution 4.0 International License.
The Anti-Trafficking Review has a policy of licensing under the Creative Commons Attribution License (CC-BY). Under the CC-BY license, the public is free to share, adapt, and make commercial use of the work. To protect our work and that of our authors, however, users must always give proper attribution to the author(s) and the Anti-Trafficking Review (i.e. with a complete bibliographic citation and link to the Anti-Trafficking Review website and/or DOI).
The Anti-Trafficking Review promotes the sharing of information, and we therefore encourage the reproduction and onward dissemination of articles published with us.