My Experience is Mine to Tell: Challenging the abolitionist victimhood framework
Keywords:
trafficking, sex work, auto-ethnography, secondary exploitation, abolitionist movement, United States
Abstract
This article is an analytical auto-ethnography of an art exhibit on trafficking into the sex industry in New York City in 2015. The analysis is informed by my own experience as a formerly trafficked person, and by other women's own interpretations of their lived realities as trafficked or as migrant workers in the Japanese sex industry. This paper challenges the abolitionist movement's unidimensional interpretation of all women engaged in sex work as victims trafficked in the sex industry; and introduces the concept of 'secondary exploitation', where these representations are framed and repackaged for consumption by opportunistic actors, while arguably further stigmatising and marginalising already vulnerable women.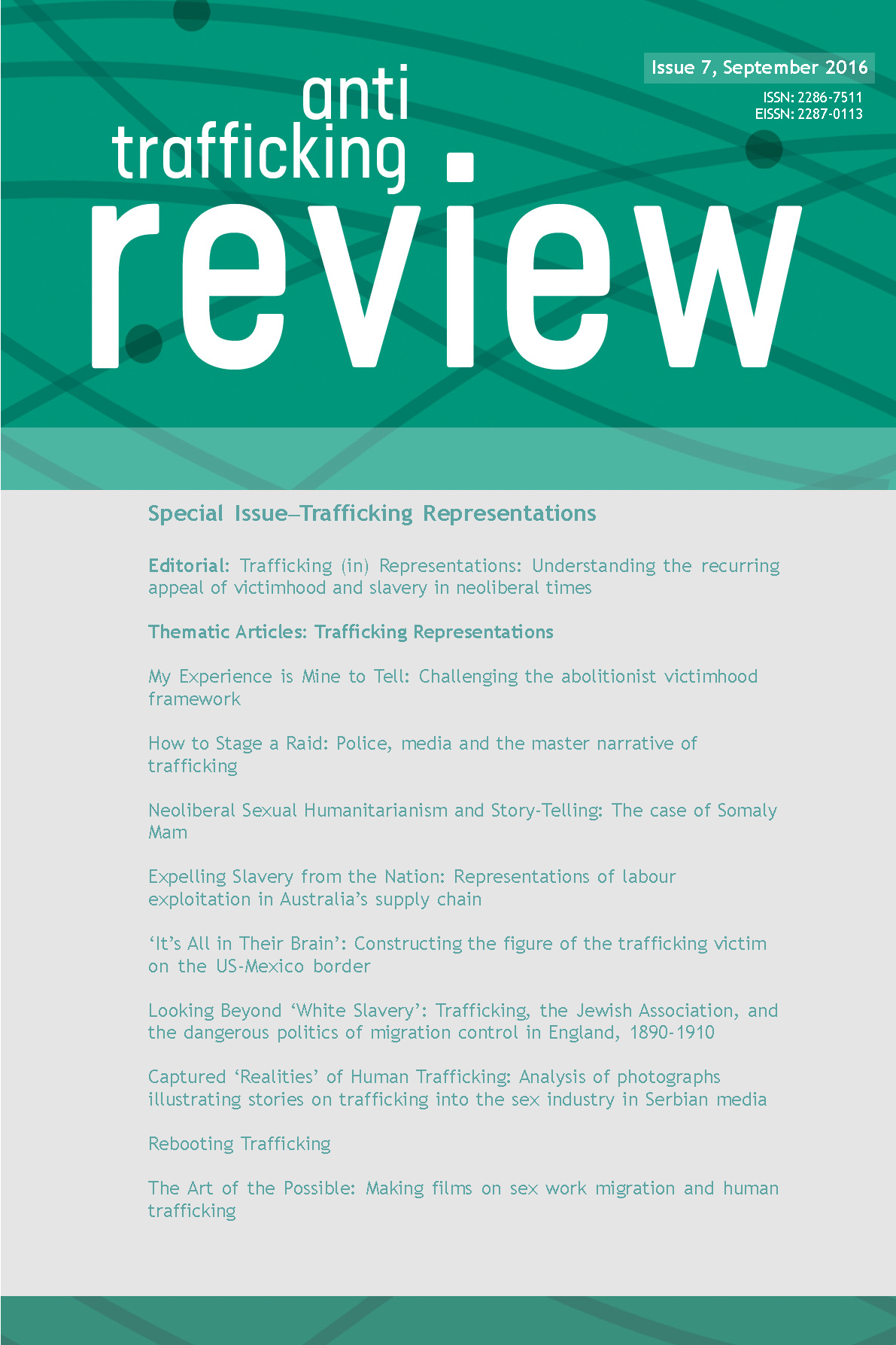 How to Cite
Cojocaru, C. (2016). My Experience is Mine to Tell: Challenging the abolitionist victimhood framework. Anti-Trafficking Review, (7), 12–38. https://doi.org/10.14197/atr.20121772
License
This work is licensed under a Creative Commons Attribution 4.0 International License.
The Anti-Trafficking Review has a policy of licensing under the Creative Commons Attribution License (CC-BY). Under the CC-BY license, the public is free to share, adapt, and make commercial use of the work. To protect our work and that of our authors, however, users must always give proper attribution to the author(s) and the Anti-Trafficking Review (i.e. with a complete bibliographic citation and link to the Anti-Trafficking Review website and/or DOI).
The Anti-Trafficking Review promotes the sharing of information, and we therefore encourage the reproduction and onward dissemination of articles published with us.