Rebooting Trafficking
Keywords:
white slavery, human trafficking, Lifetime Television, film theory, sex work, feminism
Abstract
While popular psychology and appeals to emotion have unfortunately dominated discussions of 'sex trafficking', this article suggests that feminist psychoanalytic film theory and theories of affect are still useful for making sense of the appeal of sensational exposés like Lifetime Television's Human Trafficking (2005). The dynamic of identification with (and impersonation of) a human trafficking 'victim' by the rescuing Immigration and Customs Enforcement agent (Mira Sorvino) is particularly worthy of scrutiny. Film theory about the 'rebooting' of film franchises (iconic brands like Batman) also helps explain the preponderance of similar programming—Sex Slaves (2005), Selling the Girl Next Door (2011), Trafficked (2016)—and the way contemporary discourses of human trafficking have effectively rebranded the myth of 'white slavery'.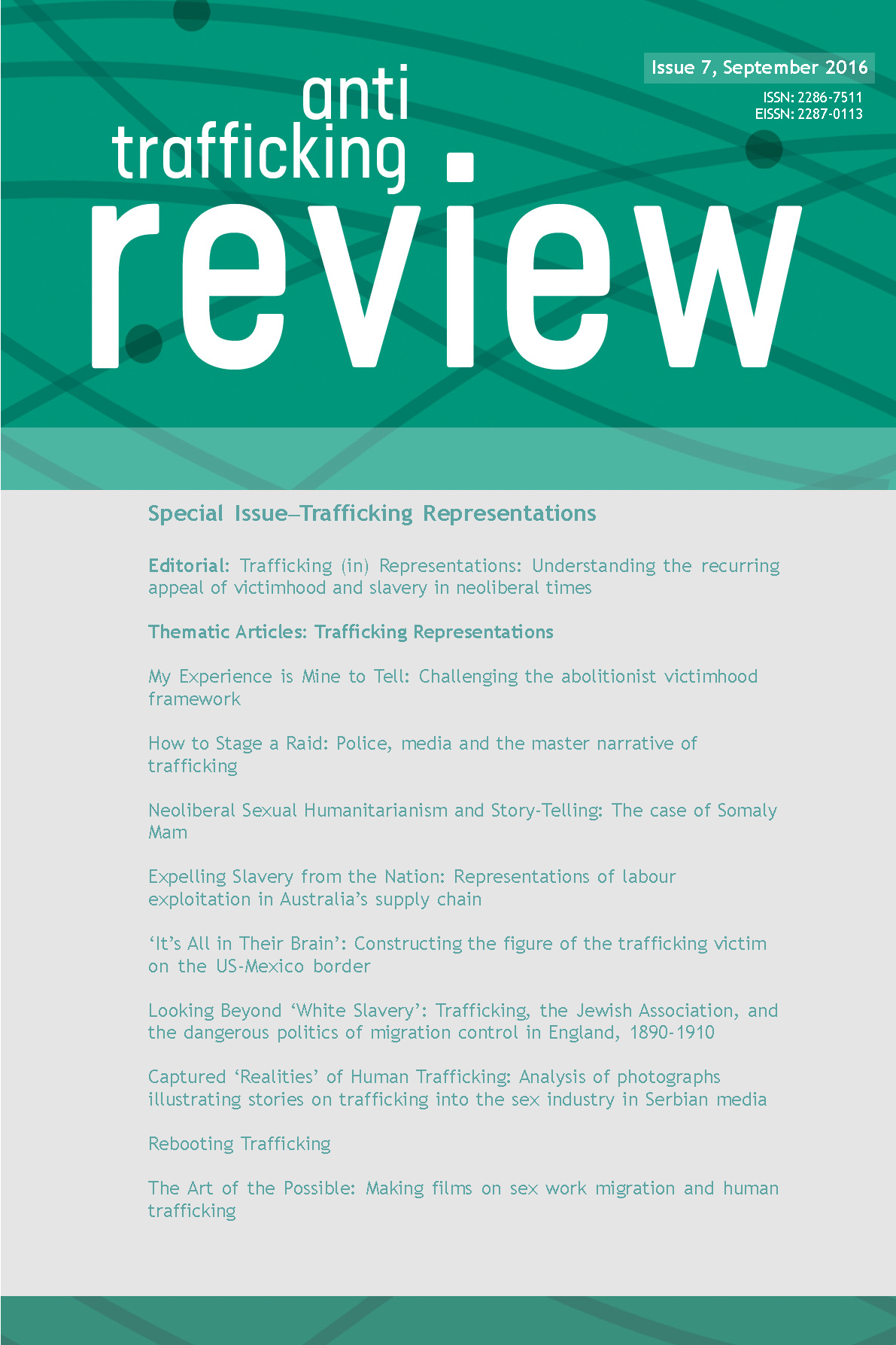 How to Cite
de Villiers, N. (2016). Rebooting Trafficking. Anti-Trafficking Review, (7), 161–181. https://doi.org/10.14197/atr.20121779
License
This work is licensed under a Creative Commons Attribution 4.0 International License.
The Anti-Trafficking Review has a policy of licensing under the Creative Commons Attribution License (CC-BY). Under the CC-BY license, the public is free to share, adapt, and make commercial use of the work. To protect our work and that of our authors, however, users must always give proper attribution to the author(s) and the Anti-Trafficking Review (i.e. with a complete bibliographic citation and link to the Anti-Trafficking Review website and/or DOI).
The Anti-Trafficking Review promotes the sharing of information, and we therefore encourage the reproduction and onward dissemination of articles published with us.