Editorial: The Presence of the Past: Lessons of history for anti-trafficking work
Abstract
This issue of the Anti-Trafficking Review is concerned with some of the histories that created, and that continue to shape, both the present-day phenomena discussed under the rubric of trafficking, and the contemporary discourse of trafficking itself. One such history is that of transatlantic slavery. Since the millennium, numerous NGOs have been founded in the US, Australia and Europe with a mission to end what they call 'modern slavery'. Their campaigns have overlapped with, and played a significant role in shaping, the development of media, NGO, policy and political discourse on human trafficking, which is, according to the antislavery NGO Free the Slaves, 'the modern day slave trade—the process of enslaving a person'.1 In this discourse, the history of transatlantic slavery is invoked by means of visual as well as textual references in order to emphasise the severity of trafficking (and other phenomena included under the umbrella of 'modern slavery') as a human rights violation. The message has been communicated so effectively that although in international law slavery is held to be only one of several possible outcomes of trafficking, in the anti-trafficking rhetoric emanating from national and international policy agencies, as well as NGOs, trafficking is now frequently said to be 'modern slavery'.2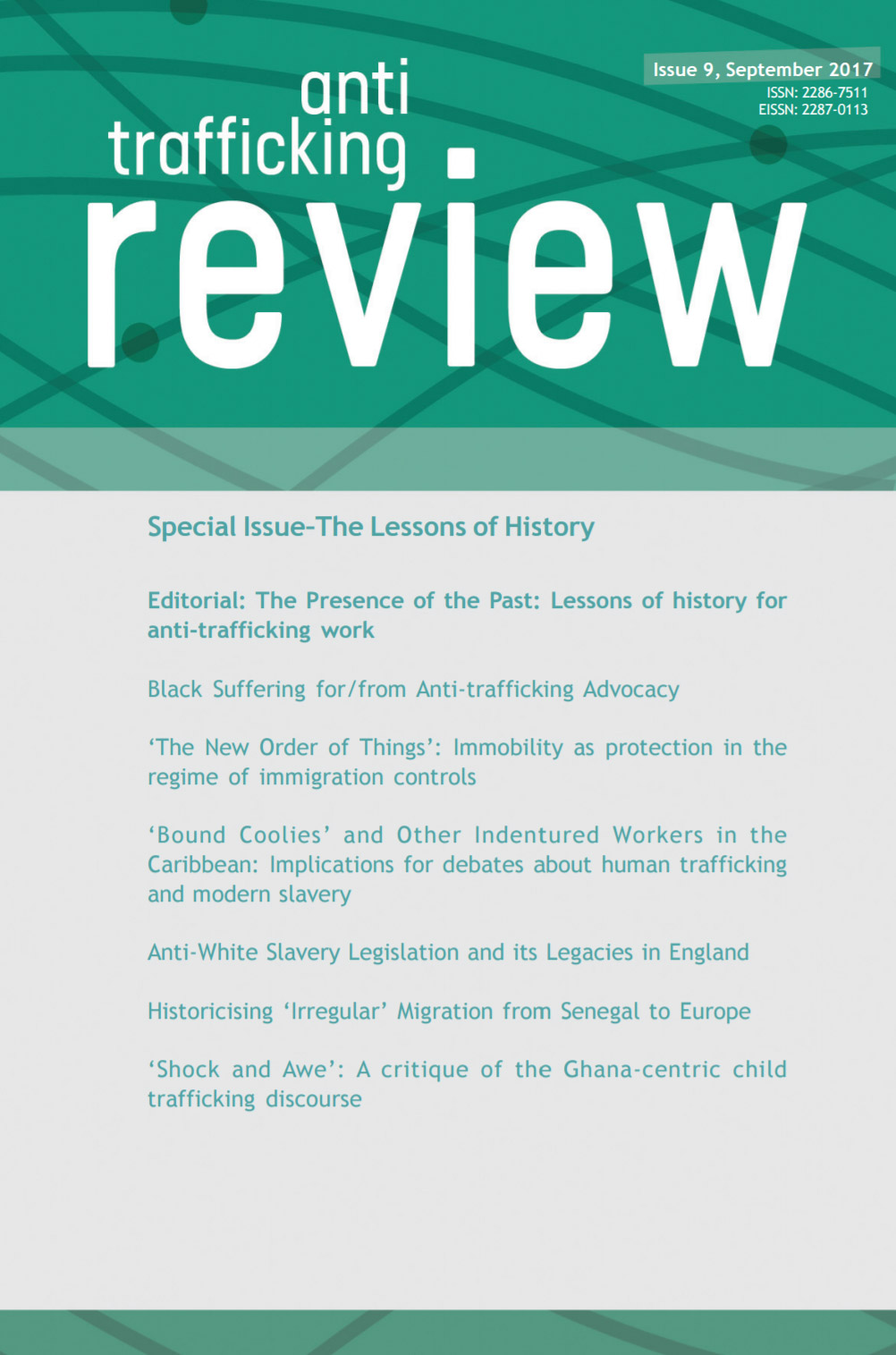 How to Cite
Davidson, J. O. (2017). Editorial: The Presence of the Past: Lessons of history for anti-trafficking work. Anti-Trafficking Review, (9), 1–12. https://doi.org/10.14197/atr.20121791
License
Copyright (c) 2017 Anti-Trafficking Review
This work is licensed under a Creative Commons Attribution 4.0 International License.
The Anti-Trafficking Review has a policy of licensing under the Creative Commons Attribution License (CC-BY). Under the CC-BY license, the public is free to share, adapt, and make commercial use of the work. To protect our work and that of our authors, however, users must always give proper attribution to the author(s) and the Anti-Trafficking Review (i.e. with a complete bibliographic citation and link to the Anti-Trafficking Review website and/or DOI).
The Anti-Trafficking Review promotes the sharing of information, and we therefore encourage the reproduction and onward dissemination of articles published with us.