Words Matter. But Rights Matter More
Abstract
Response to the ATR Debate Proposition: 'It is important and necessary to make clear distinctions between (irregular) migrants, refugees and trafficked persons.'
The international community has recently taken steps to agree two intergovernmental compacts, which together are intended to revitalise the global governance of migration and asylum. The Global Compact on Refugees seeks to strengthen international cooperation on the refugee regime, while the Global Compact for Safe, Regular and Orderly Migration aims to establish principles, commitments and understandings among Member States regarding international migration in all its dimensions. The compacts have been brought into existence against a backdrop of widespread and increasingly systematic human rights violations committed against migrants by state officials, traffickers and other criminals, and leading to what has been called 'one of the greatest human tragedies of our time'. At the same time, the very bifurcation of the compacts into two 'separate, distinct and independent' agreements rests on a set of assumptions that could distort rather than illuminate the complex issue of contemporary human mobility.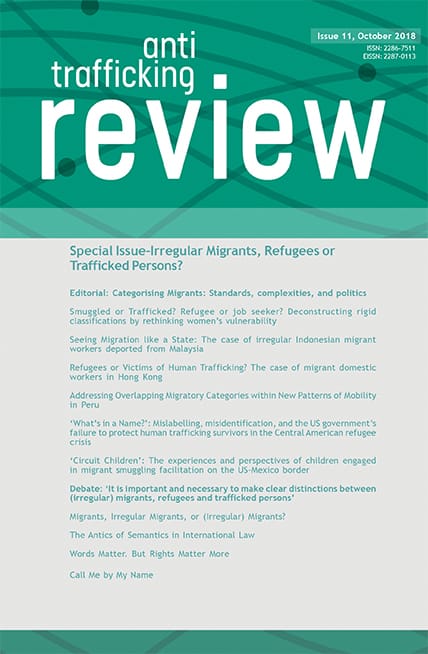 How to Cite
Oberoi, P. (2018). Words Matter. But Rights Matter More. Anti-Trafficking Review, (11). https://doi.org/10.14197/atr.2012181110
License
The Anti-Trafficking Review has a policy of licensing under the Creative Commons Attribution License (CC-BY). Under the CC-BY license, the public is free to share, adapt, and make commercial use of the work. To protect our work and that of our authors, however, users must always give proper attribution to the author(s) and the Anti-Trafficking Review (i.e. with a complete bibliographic citation and link to the Anti-Trafficking Review website and/or DOI).
The Anti-Trafficking Review promotes the sharing of information, and we therefore encourage the reproduction and onward dissemination of articles published with us.