From the Horn of Africa to the Middle East: Human trafficking of Eritrean asylum seekers across borders
Keywords:
Eritrea, refugees, human trafficking, abductions, Eastern Sudan, Northern Sinai desert, aggravated smuggling
Abstract
Each month hundreds of men, women, and children flee Eritrea as a result of grave violations of human rights committed by the Eritrean government. Travelling across borders, an estimated 36,000 Eritreans have been smuggled to Israel over the past seven years. For 31 per cent of those interviewed for this research, their migration involved abduction and forced movement for extortion among other abuses. Migrants have been abducted in Eastern Sudan near the border with Eritrea and then sold to criminal gangs along the Sudan-Egypt border. The gangs forcibly hold the migrants captive in the Northern Sinai desert. Many who made the journey reported being held hostage and subjected to brutal treatment in Eastern Sudan and the Northern Sinai desert, including gang rape of men and women, whipping, and various other methods of physical and psychological torture. Although not a traditional trafficking scenario, this paper explores the phenomenon in relation to borders. Intricate trafficking networks have exploited refugee outflows from Eritrea, turning the area around the Sudanese side of the Eritrea-Sudan border into a breeding ground for abductions, aggravated smuggling, and trafficking. While crossing borders to claim asylum may facilitate some protection from abuses perpetrated by the Eritrean government, it has created a new set of challenges for Eritrean migrants who now must find protection and safety from kidnappers. While refugees must cross borders to find safety, those same borders create the circumstances for trafficking networks to operate. Unless the dynamics of those involved changes, human rights abuses such as extortion, torture and human trafficking in Eastern Sudan and Sinai are expected to continue.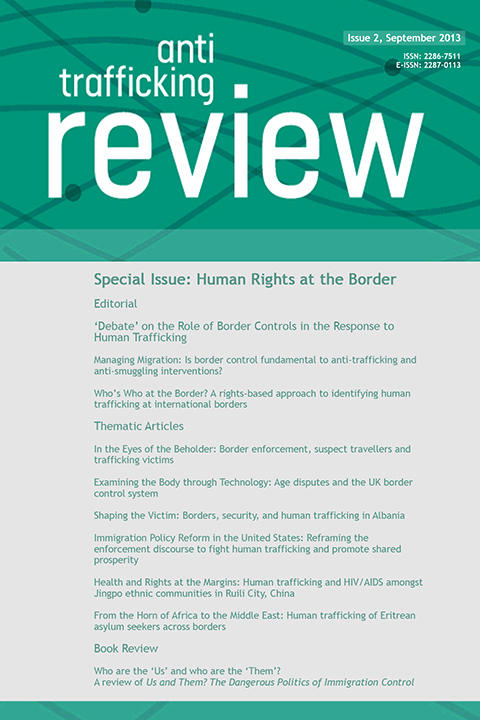 How to Cite
Lijnders, L., & Robinson, S. (2013). From the Horn of Africa to the Middle East: Human trafficking of Eritrean asylum seekers across borders. Anti-Trafficking Review, (2), 137–154. https://doi.org/10.14197/atr.20121329
License
This work is licensed under a Creative Commons Attribution 4.0 International License.
The Anti-Trafficking Review has a policy of licensing under the Creative Commons Attribution License (CC-BY). Under the CC-BY license, the public is free to share, adapt, and make commercial use of the work. To protect our work and that of our authors, however, users must always give proper attribution to the author(s) and the Anti-Trafficking Review (i.e. with a complete bibliographic citation and link to the Anti-Trafficking Review website and/or DOI).
The Anti-Trafficking Review promotes the sharing of information, and we therefore encourage the reproduction and onward dissemination of articles published with us.