Editorial: Gains and Challenges in the Global Movement for Sex Workers' Rights
Abstract
Over the past two decades, there has been a growing body of excellent academic and community-based literature on sex workers' lives, work, and organising efforts, and on the harmful effects of anti-trafficking discourses, laws, and policies on diverse sex worker communities. Importantly, a significant portion of this work has been produced by sex workers and sex worker organisations.[1] When we decided to devote this Special Issue of Anti-Trafficking Review to the theme of sex work, we acknowledged this reality. However, we also thought that, given that the discourses, laws, and policies that directly impact sex workers globally are continually changing, the production of new evidence-based research and critical perspectives is constantly needed.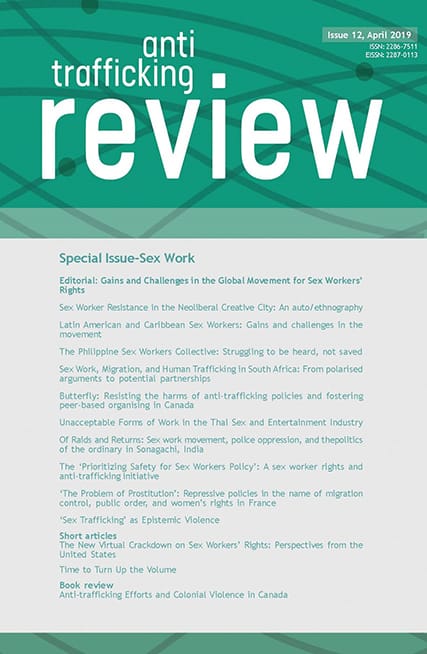 How to Cite
Lepp, A., & Gerasimov, B. (2019). Editorial: Gains and Challenges in the Global Movement for Sex Workers' Rights. Anti-Trafficking Review, (12), 1–13. https://doi.org/10.14197/atr.201219121
License
The Anti-Trafficking Review has a policy of licensing under the Creative Commons Attribution License (CC-BY). Under the CC-BY license, the public is free to share, adapt, and make commercial use of the work. To protect our work and that of our authors, however, users must always give proper attribution to the author(s) and the Anti-Trafficking Review (i.e. with a complete bibliographic citation and link to the Anti-Trafficking Review website and/or DOI).
The Anti-Trafficking Review promotes the sharing of information, and we therefore encourage the reproduction and onward dissemination of articles published with us.