Sex Work, Migration, and Human Trafficking in South Africa: From polarised arguments to potential partnerships
Keywords:
sex work, human trafficking, migration, South Africa, decriminalisation
Abstract
In South Africa, the conflation of sex work with human trafficking means that migrant/mobile sex workers are often framed as victims of trafficking while arguments for the decriminalisation of sex work are discounted due to claims about the risks of increased trafficking. This is despite the lack of clear evidence that trafficking, including in the sex industry, is a widespread problem. Sex worker organisations have called for an evidence-based approach whereby migration, sex work, and trafficking are distinguished and the debate moves beyond the polarised divisions over sex work. This paper takes up this argument by drawing on research with sex workers and a sex worker organisation in South Africa, as well as reflections shared at two Sex Workers' Anti-trafficking Research Symposiums. In so doing, the authors propose the further development of a Sex Work, Exploitation, and Migration/Mobility Model that takes into consideration the complexities of the quotidian experiences of migration and selling sex. This, we suggest, could enable a more effective and productive partnership between sex worker organisations and other stakeholder groups, including anti-trafficking and labour rights organisations, trade unions, and others to protect the rights and well-being of all those involved in sex work.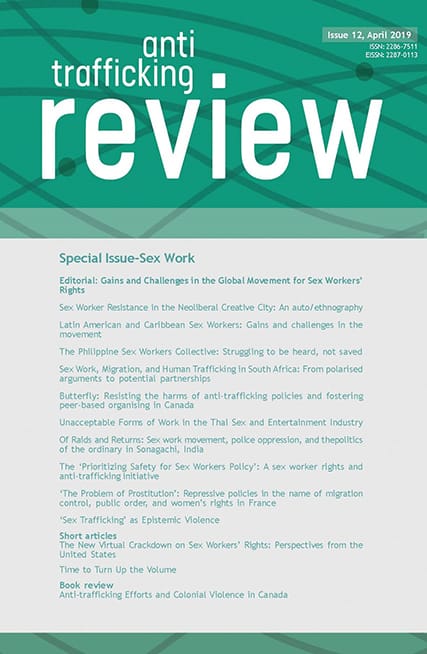 How to Cite
Yingwana, N., Walker, D. R., & Etchart, A. (2019). Sex Work, Migration, and Human Trafficking in South Africa: From polarised arguments to potential partnerships. Anti-Trafficking Review, (12), 74–90. https://doi.org/10.14197/atr.201219125
License
The Anti-Trafficking Review has a policy of licensing under the Creative Commons Attribution License (CC-BY). Under the CC-BY license, the public is free to share, adapt, and make commercial use of the work. To protect our work and that of our authors, however, users must always give proper attribution to the author(s) and the Anti-Trafficking Review (i.e. with a complete bibliographic citation and link to the Anti-Trafficking Review website and/or DOI).
The Anti-Trafficking Review promotes the sharing of information, and we therefore encourage the reproduction and onward dissemination of articles published with us.