'Sex Trafficking' as Epistemic Violence
Keywords:
human trafficking, sex work, human rights, law enforcement, governmentality, postcolonial theory
Abstract
While the American Allow States and Victims to Fight Online Sex Trafficking Act of 2017 (FOSTA) has been heavily criticised by researchers and activists for the harm it inflicts on sex workers, many of these critics nevertheless agree with the Act's goal of fighting sex trafficking online. This paper, however, argues that in American legal discourse, 'sex trafficking' refers not to human trafficking for sexual exploitation, but rather to all forms of sex work. As such, the law's punitive treatment of sex workers needs to be understood as the law's purpose, rather than an unfortunate side effect. This paper also demonstrates how the discourse of 'sex trafficking' is itself a form of epistemic violence that silences sex workers and leaves them vulnerable to abuse, with FOSTA serving to broaden the scope of this violence. The paper concludes by highlighting ways journalists and academic researchers can avoid becoming complicit in this violence.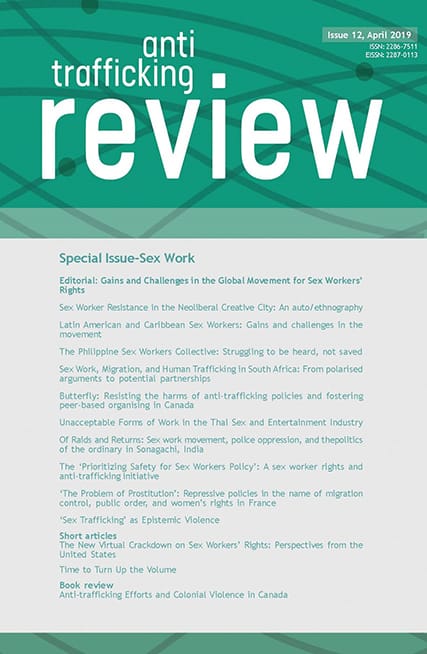 How to Cite
Chapman-Schmidt, B. (2019). 'Sex Trafficking' as Epistemic Violence. Anti-Trafficking Review, (12), 172–187. https://doi.org/10.14197/atr.2012191211
License
The Anti-Trafficking Review has a policy of licensing under the Creative Commons Attribution License (CC-BY). Under the CC-BY license, the public is free to share, adapt, and make commercial use of the work. To protect our work and that of our authors, however, users must always give proper attribution to the author(s) and the Anti-Trafficking Review (i.e. with a complete bibliographic citation and link to the Anti-Trafficking Review website and/or DOI).
The Anti-Trafficking Review promotes the sharing of information, and we therefore encourage the reproduction and onward dissemination of articles published with us.