Debunking the Myth of 'Super Bowl Sex Trafficking': Media hype or evidenced-based coverage
Keywords:
human trafficking, sports, media coverage, action research, public perceptions, Super Bowl
Abstract
A large body of scholarship has described the narrow set of media narratives used to report trafficking for sexual exploitation to the public. This article examines US media coverage of human trafficking in relation to the Super Bowl, American football's championship game. Available empirical evidence does not suggest that major sporting events cause trafficking for sexual exploitation. Yet, we find that 76 per cent of US print media from 2010 to 2016 propagated the 'Super Bowl sex trafficking' narrative. Local coverage of the 2018 Super Bowl in Minneapolis, Minnesota, was different, presenting a sceptical stance toward this narrative. The article describes how this substantial shift resulted from our research group and anti-trafficking stakeholders employing an action research approach to craft a Super Bowl communication strategy that aligned with empirical evidence. Although sensationalist narratives are difficult to dislodge, the Minnesota case shows that evidence on trafficking can be effectively used to inform media and impact public perceptions, when researchers work with stakeholders on the ground. Lessons learnt are shared to enable others to replicate these results.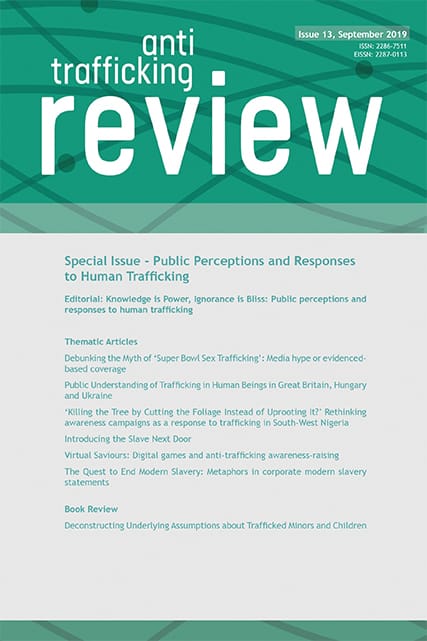 How to Cite
Martin, L., & Hill, A. (2019). Debunking the Myth of 'Super Bowl Sex Trafficking': Media hype or evidenced-based coverage. Anti-Trafficking Review, (13), 13–29. https://doi.org/10.14197/atr.201219132
License
The Anti-Trafficking Review has a policy of licensing under the Creative Commons Attribution License (CC-BY). Under the CC-BY license, the public is free to share, adapt, and make commercial use of the work. To protect our work and that of our authors, however, users must always give proper attribution to the author(s) and the Anti-Trafficking Review (i.e. with a complete bibliographic citation and link to the Anti-Trafficking Review website and/or DOI).
The Anti-Trafficking Review promotes the sharing of information, and we therefore encourage the reproduction and onward dissemination of articles published with us.