Erased: The impact of FOSTA-SESTA and the removal of Backpage on sex workers
Abstract
This short article presents in brief the findings of a community-based, sex worker-led survey that asked sex workers about their experiences since the closure of Backpage and adoption of FOSTA. It shows that the financial situation of the vast majority of research participants has deteriorated, as has their ability to access community and screen clients. It concludes that FOSTA is just the latest example of the US government using anti-trafficking policy and restrictions on technology to police already marginalised people.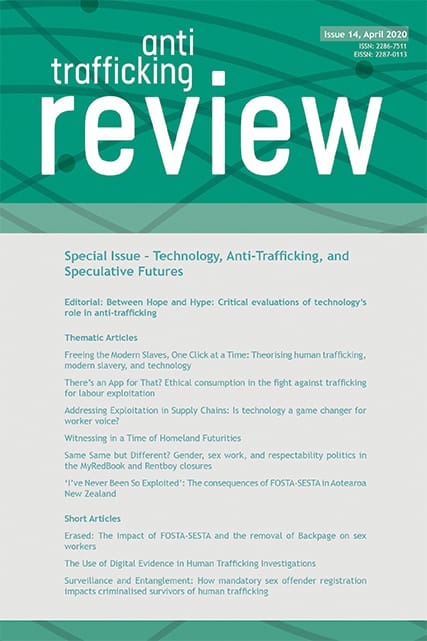 How to Cite
Blunt, D., & Wolf, A. (2020). Erased: The impact of FOSTA-SESTA and the removal of Backpage on sex workers. Anti-Trafficking Review, (14), 117–121. https://doi.org/10.14197/atr.201220148
License
The Anti-Trafficking Review has a policy of licensing under the Creative Commons Attribution License (CC-BY). Under the CC-BY license, the public is free to share, adapt, and make commercial use of the work. To protect our work and that of our authors, however, users must always give proper attribution to the author(s) and the Anti-Trafficking Review (i.e. with a complete bibliographic citation and link to the Anti-Trafficking Review website and/or DOI).
The Anti-Trafficking Review promotes the sharing of information, and we therefore encourage the reproduction and onward dissemination of articles published with us.