Giving us the 'Biggest Bang for the Buck' (or Not): Anti-trafficking government funding in Ukraine and the United Kingdom
Keywords:
human trafficking, migration, neoliberalism, human rights, policy analysis
Abstract
The focus of this paper is on government anti-trafficking policies and funding allocations in two case-study countries, Ukraine and the United Kingdom (UK). The paper discusses specific ways, or 'vectors', in which human trafficking has been discursively constructed by national policies and the solutions that have been offered to counteract it. It relies on publicly available information and information obtained via Freedom of Information requests from public authorities in these countries to explore the extent to which anti-trafficking funding allocated by national governments supports or unsettles such representations. A broader definition of human trafficking has been encoded into anti-trafficking policies in Ukraine, implicating migratory pressures and violation of irregular migrants' human rights as the root causes of trafficking. However, the ability of the government to act upon this definition is limited by the ongoing socio-economic and political crises in Ukraine. This is in comparison to the politicised construction of trafficking by the UK government as a threat from international organised crime and 'illegal' immigration. The paper concludes that governments in both countries put their anti-trafficking money where 'their mouths are': crime, immigration and victim care in the UK, and awareness raising, victim care and training of 'frontline professionals' in Ukraine.
Dándonos el "Mayor Rendimiento al Menor Coste" (o No): Financiación nacional contra la Trata en Ucrania y Reino Unido
Resumen
Este artículo se centra en la políticas gubernamentales contra la trata y la asignación financiera en dos países a modo de estudio de caso, Ucrania y Reino Unido. En concreto se discuten las vías específicas, o "vectores", que en el ámbito de las políticas nacionales se han ido formulando para afrontar el problema de la trata de seres humanos, así como las soluciones que se han ido proponiendo para neutralizarlo. Para ello se toma la información pública disponible y aquella obtenida a través de solicitudes a los Servicios de Información Pública en estos países, para determinar si el alcance de las líneas de financiación de los gobiernos contribuyen a apoyar o perjudicar sus propias conceptualizaciones del problema. Una definición más amplia de la trata de personas se ha introducido en Ucrania, que identifica como las causas fundamentales de la trata las presiones migratorias y las violaciones de los derechos humanos de migrantes irregulares. Sin embargo, la capacidad de actuación del gobierno en esta línea se ve limitada por la continua crisis socio-económica y política que afronta el país. Por su parte, el gobierno de Reino Unido realiza una construcción política de la trata de personas como una amenaza al crimen organizado y a la inmigración "ilegal". El artículo concluye que los gobiernos de ambos países sustentan económicamente las acciones que más les interesan: crimen, inmigración y apoyo a las víctimas en Reino Unido, y campañas de sensibilización, apoyo a las víctimas y entrenamiento de los "profesionales en primera línea" en Ucrania.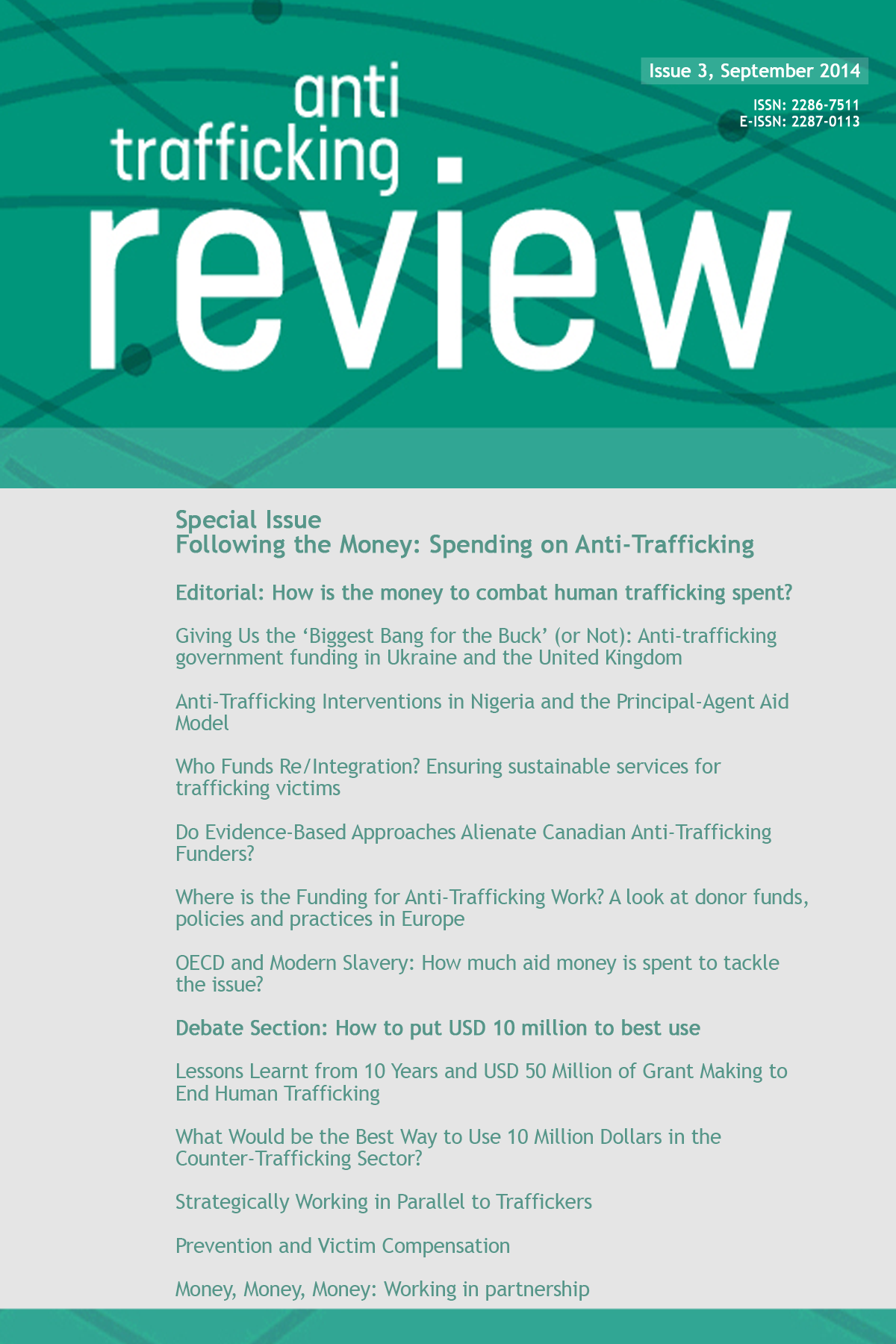 How to Cite
Sharapov, K. (2014). Giving us the 'Biggest Bang for the Buck' (or Not): Anti-trafficking government funding in Ukraine and the United Kingdom. Anti-Trafficking Review, (3). https://doi.org/10.14197/atr.20121432
License
The Anti-Trafficking Review has a policy of licensing under the Creative Commons Attribution License (CC-BY). Under the CC-BY license, the public is free to share, adapt, and make commercial use of the work. To protect our work and that of our authors, however, users must always give proper attribution to the author(s) and the Anti-Trafficking Review (i.e. with a complete bibliographic citation and link to the Anti-Trafficking Review website and/or DOI).
The Anti-Trafficking Review promotes the sharing of information, and we therefore encourage the reproduction and onward dissemination of articles published with us.