Why the 'Ideal Victim' Persists: Queering representations of victimhood in human trafficking discourse
Keywords:
victim, white slavery, genealogy, queer, human trafficking, subjecthood
Abstract
The image of a young, victimised woman bound and gagged for implied sexual exploitation persists in the imagination, promotional material, and reports of the anti-trafficking sector. She is presented as the 'ideal' victim, and while people who have experienced this undoubtedly exist, many victim accounts deviate from this prescriptive path. Why then does the image of a universal, ideal victim endure? This paper argues that the idealised subject of contemporary trafficking law is not merely a symptom of uncritical representation, but intrinsic to the formation of anti-trafficking law. Often feminised, she becomes a tool for maintaining heteronormative and white nationalism, but one which never existed beyond her confines of anti-trafficking law. To unearth her production, I present a queer genealogy of the human trafficking subject from British campaigns against white slavery in the late nineteenth century to contemporary law. A queer reading of this history demonstrates that rather than preceding laws, the ideal victim serves to personify cultural anxiety over race and gender housed in anti-trafficking policy. This is essential because without contending with this history and restrictive definition of victimhood, it would be impossible for current trafficking law in developed countries to adequately protect LGBTQ+ and irregular migrants who often do not conform to idealised forms of victimhood. Furthermore, a critical analysis of the ideal victim is essential to moving away from a hierarchical evaluation of victimhood altogether.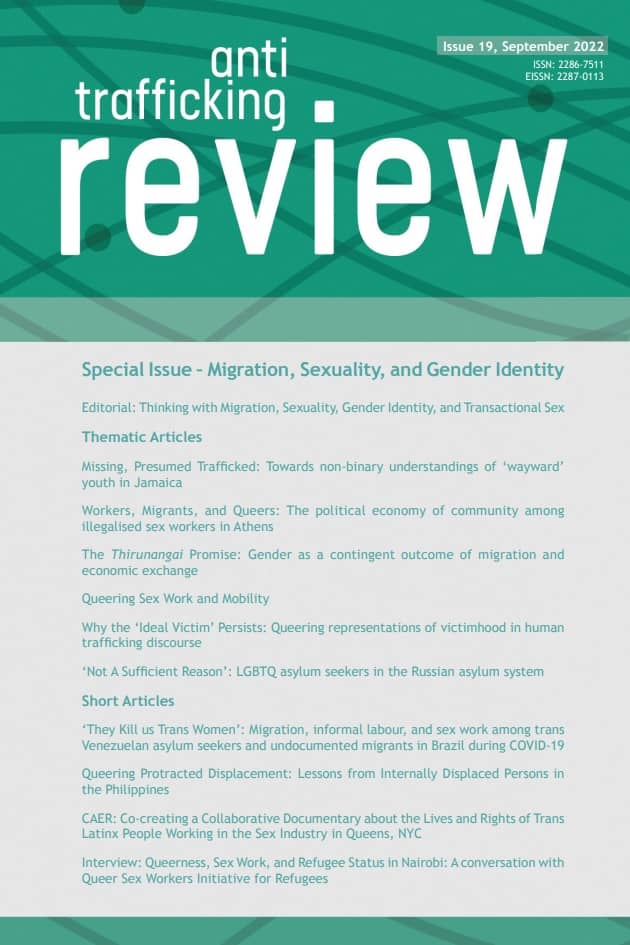 How to Cite
Forringer-Beal, A. (2022). Why the 'Ideal Victim' Persists: Queering representations of victimhood in human trafficking discourse. Anti-Trafficking Review, (19), 87–102. https://doi.org/10.14197/atr.201222196
License
This work is licensed under a Creative Commons Attribution 4.0 International License.
The Anti-Trafficking Review has a policy of licensing under the Creative Commons Attribution License (CC-BY). Under the CC-BY license, the public is free to share, adapt, and make commercial use of the work. To protect our work and that of our authors, however, users must always give proper attribution to the author(s) and the Anti-Trafficking Review (i.e. with a complete bibliographic citation and link to the Anti-Trafficking Review website and/or DOI).
The Anti-Trafficking Review promotes the sharing of information, and we therefore encourage the reproduction and onward dissemination of articles published with us.