Do Evidence-Based Approaches Alienate Canadian Anti-Trafficking Funders?
Keywords:
funding, anti-trafficking, anti-prostitution, accountability, sex work, donors, funders, financiación, contra la trata, contra la prostitución, rendición de cuentas, trabajo sexual, donantes, financiadores
Abstract
As a sex worker support organisation, SWAN (Supporting Women's Alternatives Network) Vancouver's relationship to anti-trafficking funding remains ambivalent, particularly given the history of anti-trafficking measures that have jeopardised the rights of sex workers. In this article, we share how we, as a small grassroots group, attempt to work through these ambivalences in dialogue with donors. Although SWAN Vancouver works with women who are often perceived to be trafficked (i.e. Asian women in sex work), it is rare for members of SWAN Vancouver to come across any case in the sex-work sector that has the hallmarks of trafficking, such as coerced work. Instead, our anti-trafficking work has mainly involved identifying the harms and human rights violations caused by repressive or misguided anti-trafficking measures. We reflect on our dialogue with two Canadian funders (a federal government agency and a national public foundation) that have considerable resources and immense power to influence what anti-trafficking practices are implemented in Canada. We analyse how these two funders and their adoption of an anti-prostitution analysis of trafficking will likely result in punitive consequences for immigrant sex workers, and therefore increase the need to assist women who have been anti-trafficked rather than trafficked.
¿Están los financiadores canadienses contra la trata alejados del enfoque basado en la evidencia?
Resumen
Como una organización que apoya a los trabajadores sexuales, la relación entre SWAN (Red Alternativa de Apoyo a las Mujeres) y los financiadores contra la trata en Vancouver es contradictoria, sobre todo teniendo en cuenta la historia de las medidas contra la trata que han puesto en peligro los derechos de los trabajadores sexuales. En este artículo discutimos cómo nosotros, como un pequeño pero clave grupo especializado, nos esforzamos en trabajar contra estas contradicciones en un diálogo continuo con los donantes. Aunque SWAN Vancouver trabaja con mujeres que a veces son percibidas como objeto de la trata (como por ejemplo las trabajadoras sexuales asiáticas), para los miembros de SWAN Vancouver es difícil identificar cualquier caso en el sector del trabajo sexual con las señas de identidad de la trata de personas, como trabajo coaccionado. Por el contrario, nuestro trabajo contra la trata principalmente está relacionado con la identificación del daño y las violaciones a los derechos humanos causados por las medidas represivas o erróneamente identificadas como contra la trata. En este trabajo reflexionamos sobre el diálogo con dos financiadores canadienses (una agencia gubernamental federal y una fundación pública nacional), que tienen considerables recursos y un inmenso poder para influir en las medidas contra la trata que son implementadas en Canadá. Analizamos cómo estos dos financiadores y su particular aproximación al problema de la trata desde un análisis contra la prostitución, derivarán en una serie de consecuencias punitivas para los trabajadores sexuales migrantes, fomentando la necesidad de asistir a mujeres que más allá de haber sido objeto de la trata, han sido objeto de las medidas contra la trata.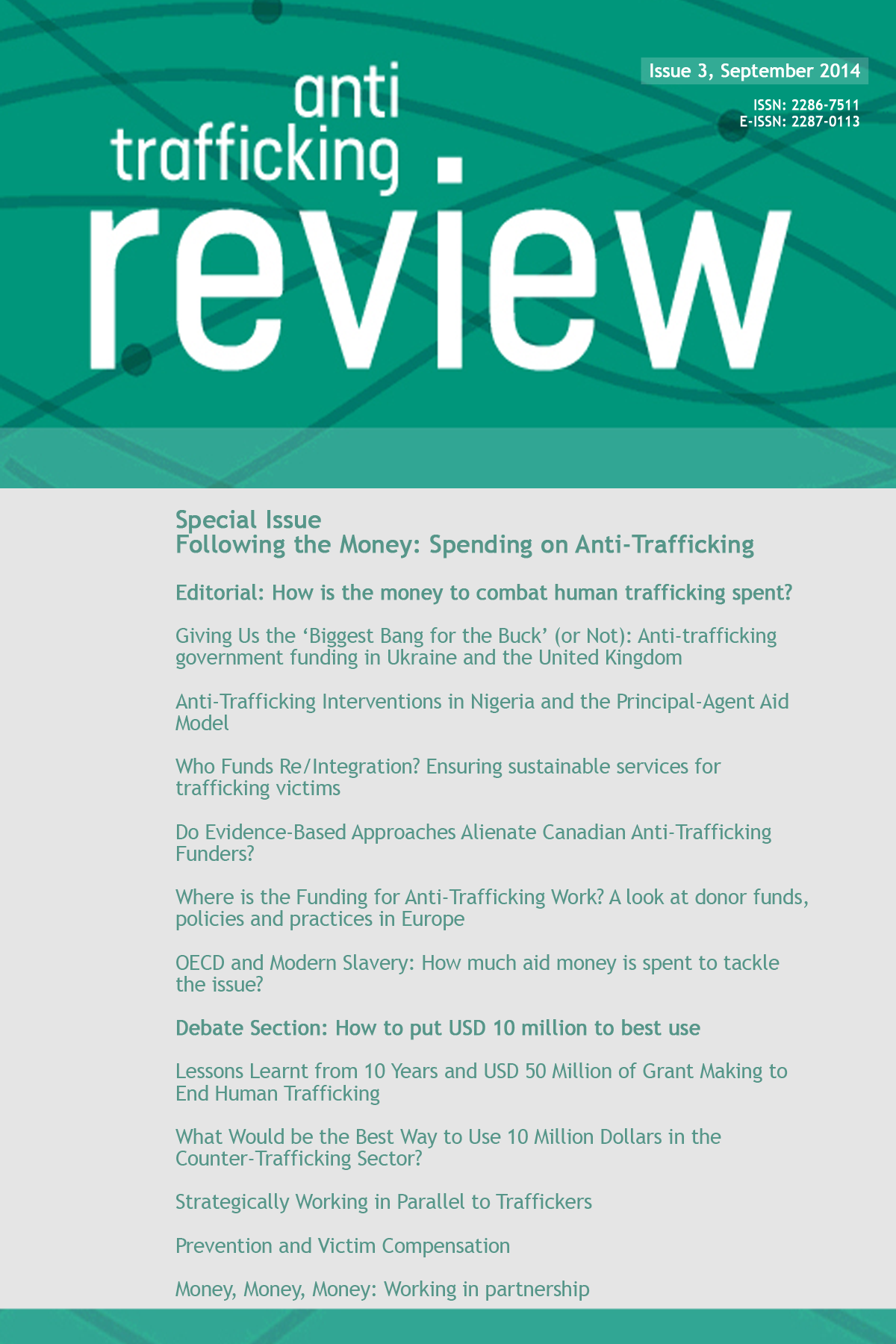 How to Cite
Clancey, A., Khushrushahi, N., & Ham, J. (2014). Do Evidence-Based Approaches Alienate Canadian Anti-Trafficking Funders?. Anti-Trafficking Review, (3). https://doi.org/10.14197/atr.20121435
License
The Anti-Trafficking Review has a policy of licensing under the Creative Commons Attribution License (CC-BY). Under the CC-BY license, the public is free to share, adapt, and make commercial use of the work. To protect our work and that of our authors, however, users must always give proper attribution to the author(s) and the Anti-Trafficking Review (i.e. with a complete bibliographic citation and link to the Anti-Trafficking Review website and/or DOI).
The Anti-Trafficking Review promotes the sharing of information, and we therefore encourage the reproduction and onward dissemination of articles published with us.