Editorial: Who Counts? Issues of definition in anti-trafficking and housing research and action
Abstract
The relationship between homelessness and contemporary forms of slavery and human trafficking is well established. Early research often took this relationship for granted and was frequently divorced from housing policy or theory. Interdisciplinary research has continued to ignore how the housing sector struggled with its own issues around defining homelessness and what the dominant definition (the United States' HUD-Rossi definition) meant for our understanding of homelessness. This Editorial to a Special Issue of Anti-Trafficking Review on 'home and homelessness' discusses the HUD-Rossi definition, its impact on research, both domestically and abroad, and the recent rejection of 'roof-based' for a return to socio-cultural definitions. With these socio-cultural definitions in mind, this special issue introduces the research touching upon the intersection of housing and anti-trafficking in three categories: 1) listening to traditional subjects of anti-trafficking research and their views on housing, homelessness, and homes; 2) illustrating how state housing and immigration policies encourage exploitation; and 3) critiquing how housing provided by the anti-trafficking and criminal justice sector often falls short in supporting a home-like environment.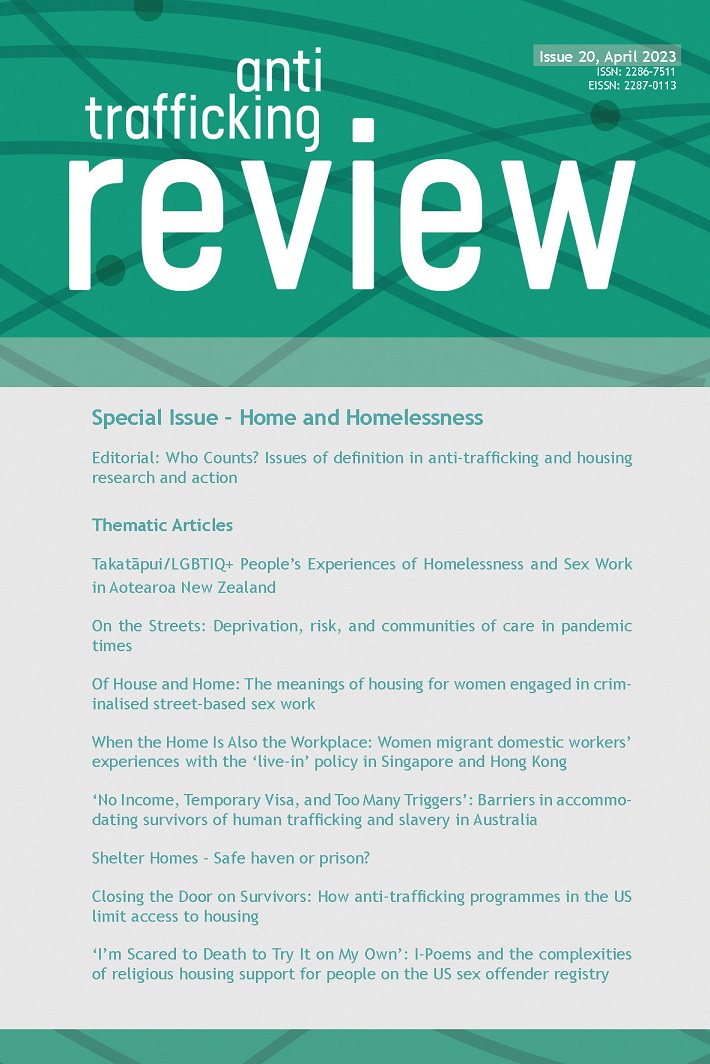 How to Cite
Hail-Jares, K. (2023). Editorial: Who Counts? Issues of definition in anti-trafficking and housing research and action. Anti-Trafficking Review, (20), 1–12. https://doi.org/10.14197/atr.201223201
License
This work is licensed under a Creative Commons Attribution 4.0 International License.
The Anti-Trafficking Review has a policy of licensing under the Creative Commons Attribution License (CC-BY). Under the CC-BY license, the public is free to share, adapt, and make commercial use of the work. To protect our work and that of our authors, however, users must always give proper attribution to the author(s) and the Anti-Trafficking Review (i.e. with a complete bibliographic citation and link to the Anti-Trafficking Review website and/or DOI).
The Anti-Trafficking Review promotes the sharing of information, and we therefore encourage the reproduction and onward dissemination of articles published with us.