On the Streets: Deprivation, risk, and communities of care in pandemic times
Keywords:
risk, care, pandemic, Ecuador, streetification
Abstract
Following the COVID-19 pandemic, public concerns about 'vulnerable people in street situation' have grown in South American countries. These concerns focus on the risk of sexual violence, exploitation, and human trafficking faced by migrants and women in the sex sector. This article examines these public concerns and the discourses of risk that structure them, taking Ecuador and the border province of El Oro as a case study. It analyses how irregularised migrants and women offering sexual and erotic services talk about 'risk' and 'exploitation', and how they respond to crisis, controls, and restrictions by becoming involved in risky activities and building communities of care. These communities are solidarity alliances that connect and offer mutual support to people confronting deprivation and violence. They are not restricted to the household or the domestic sphere; rather, they constitute different forms of 'family' and 'home' building. The article is based on a participatory research in El Oro, a place with a long history of human trafficking that has not been recognised or studied.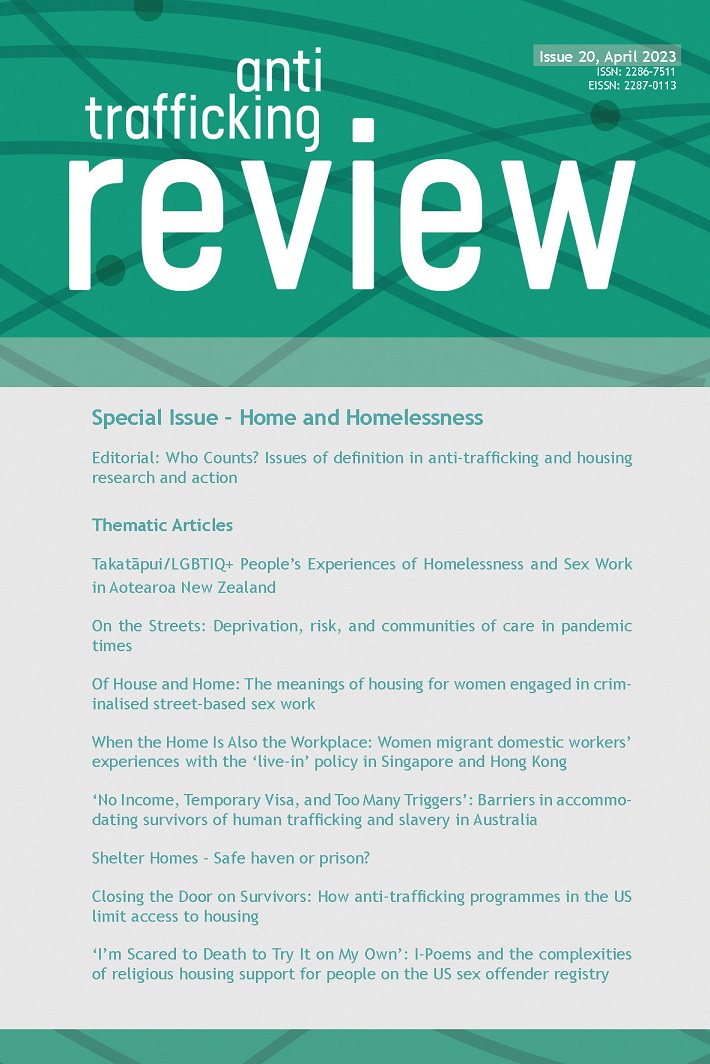 How to Cite
Ruiz Muriel, M. C. (2023). On the Streets: Deprivation, risk, and communities of care in pandemic times. Anti-Trafficking Review, (20), 33–53. https://doi.org/10.14197/atr.201223203
License
This work is licensed under a Creative Commons Attribution 4.0 International License.
The Anti-Trafficking Review has a policy of licensing under the Creative Commons Attribution License (CC-BY). Under the CC-BY license, the public is free to share, adapt, and make commercial use of the work. To protect our work and that of our authors, however, users must always give proper attribution to the author(s) and the Anti-Trafficking Review (i.e. with a complete bibliographic citation and link to the Anti-Trafficking Review website and/or DOI).
The Anti-Trafficking Review promotes the sharing of information, and we therefore encourage the reproduction and onward dissemination of articles published with us.