'No Income, Temporary Visa, and Too Many Triggers': Barriers in accommodating survivors of human trafficking and slavery in Australia
Keywords:
human trafficking, modern slavery, survivors, housing insecurity, immigration status, income, Australia
Abstract
Access to stable housing has a significant effect on the wellbeing of survivors of human trafficking and modern slavery. Safe and sustainable accommodation provides a crucial foundation for survivors beginning their recovery; however, it is often very difficult to source for support services assisting them. This paper presents the findings of research that analysed the eligibility, suitability, availability, and accessibility of short-term accommodation and long-term housing options to better understand the barriers to accommodating survivors in Australia. It demonstrates that survivors were not eligible for many options due to their immigration status or lack of income. Within the limited options, there is a shortage of suitable accommodation due to the absence of survivor-specific services, and due to rules and requirements imposed by accommodation providers that are not supportive of survivors' unique needs. These include restrictions on survivors' freedom of movement, on the use of alcohol and other drugs, and on accommodating men, children, and extended family, as well as requirements related to engaging in activities. These barriers negatively impact survivors' recovery and may lead to homelessness whilst increasing the risk of re-trafficking or other harm. Collaboration and coordination between actors within anti-slavery and housing policy spheres is urgently required to mitigate these barriers and prevent such harms.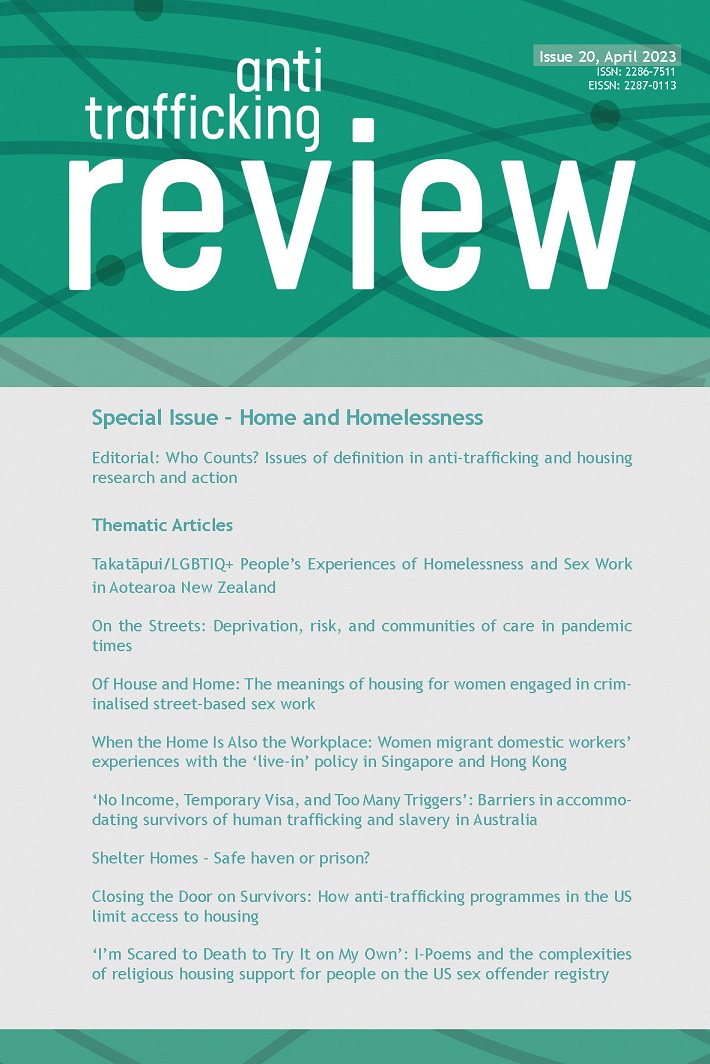 How to Cite
Raby, K., Chazal, N., Garcia-Daza, L., & Mebalds, G. (2023). 'No Income, Temporary Visa, and Too Many Triggers': Barriers in accommodating survivors of human trafficking and slavery in Australia. Anti-Trafficking Review, (20), 92–110. https://doi.org/10.14197/atr.201223206
License
This work is licensed under a Creative Commons Attribution 4.0 International License.
The Anti-Trafficking Review has a policy of licensing under the Creative Commons Attribution License (CC-BY). Under the CC-BY license, the public is free to share, adapt, and make commercial use of the work. To protect our work and that of our authors, however, users must always give proper attribution to the author(s) and the Anti-Trafficking Review (i.e. with a complete bibliographic citation and link to the Anti-Trafficking Review website and/or DOI).
The Anti-Trafficking Review promotes the sharing of information, and we therefore encourage the reproduction and onward dissemination of articles published with us.