Shelter Homes - Safe haven or prison?
Abstract
Shelters are the most common form of assistance available to trafficked persons in Malaysia and other countries. They may offer a safe and protected environment in which they can begin their recovery and access services such as legal, medical, or psychosocial aid. However, the rules imposed in the shelters and the overall victim protection mechanisms in Malaysia have been heavily criticised for violating human rights principles. This is because 'rescued' victims are forcibly detained in shelters until they are repatriated, which may take months or even a year. This article considers the conditions of victims' detention from a socio-legal perspective. Drawing upon interviews with 29 trafficked women and 12 professionals from a shelter in Kuala Lumpur, it explores the women's living conditions and access to legal support and mental and physical healthcare within the facility. The article concludes that routine detention of trafficked persons in shelters violates fundamental principles of international law and is therefore to be considered unlawful.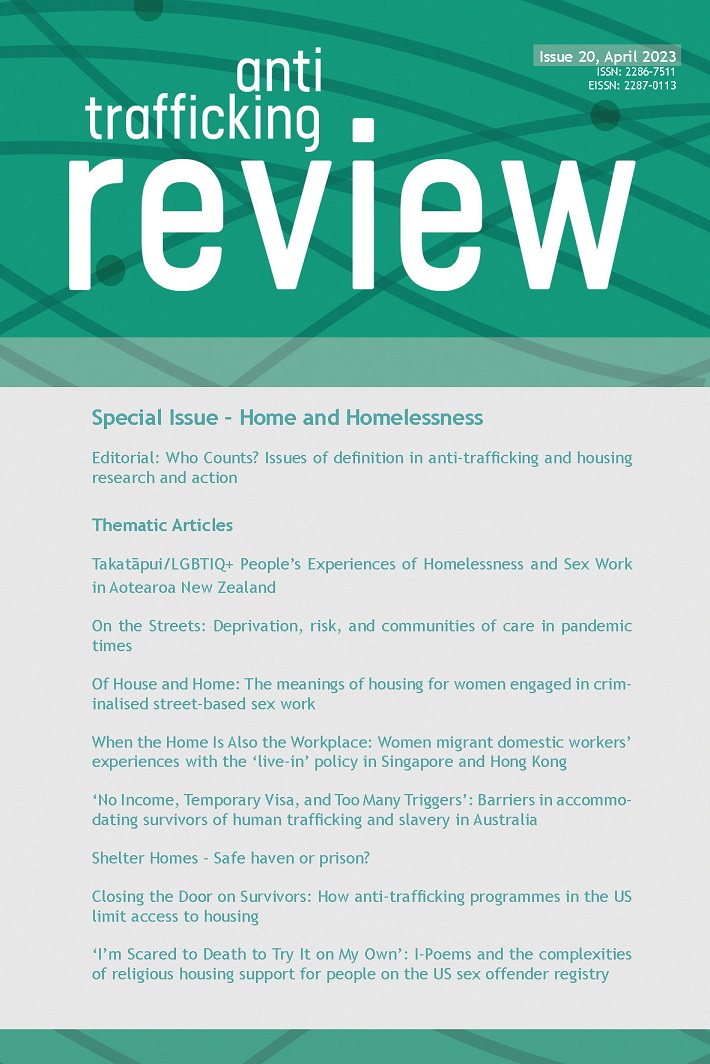 How to Cite
Abdul Hamid, H. B. (2023). Shelter Homes - Safe haven or prison?. Anti-Trafficking Review, (20), 111–134. https://doi.org/10.14197/atr.201223207
License
This work is licensed under a Creative Commons Attribution 4.0 International License.
The Anti-Trafficking Review has a policy of licensing under the Creative Commons Attribution License (CC-BY). Under the CC-BY license, the public is free to share, adapt, and make commercial use of the work. To protect our work and that of our authors, however, users must always give proper attribution to the author(s) and the Anti-Trafficking Review (i.e. with a complete bibliographic citation and link to the Anti-Trafficking Review website and/or DOI).
The Anti-Trafficking Review promotes the sharing of information, and we therefore encourage the reproduction and onward dissemination of articles published with us.