Closing the Door on Survivors: How anti-trafficking programmes in the US limit access to housing
Abstract
Housing is often an immediate need for survivors as they exit a trafficking situation. Due to financial hardship, housing availability, and other barriers, many survivors rely on time-limited housing options, some which are offered by anti-trafficking service providers. As such, the anti-trafficking field has begun to adopt trauma-informed approaches to housing to meet the needs of survivors. In this paper, we present an analysis of policies and procedures from 73 US anti-trafficking housing programmes on the implementation of a trauma-informed model. We argue that mandatory requirements limit the implementation of trauma-informed service delivery. Additionally, practices such as the voluntary services model can be leveraged to increase trauma-informed approaches in housing services. Lessons learnt from this process can inform the revision of punitive policies and procedures in favour of those that are voluntary and trauma-informed.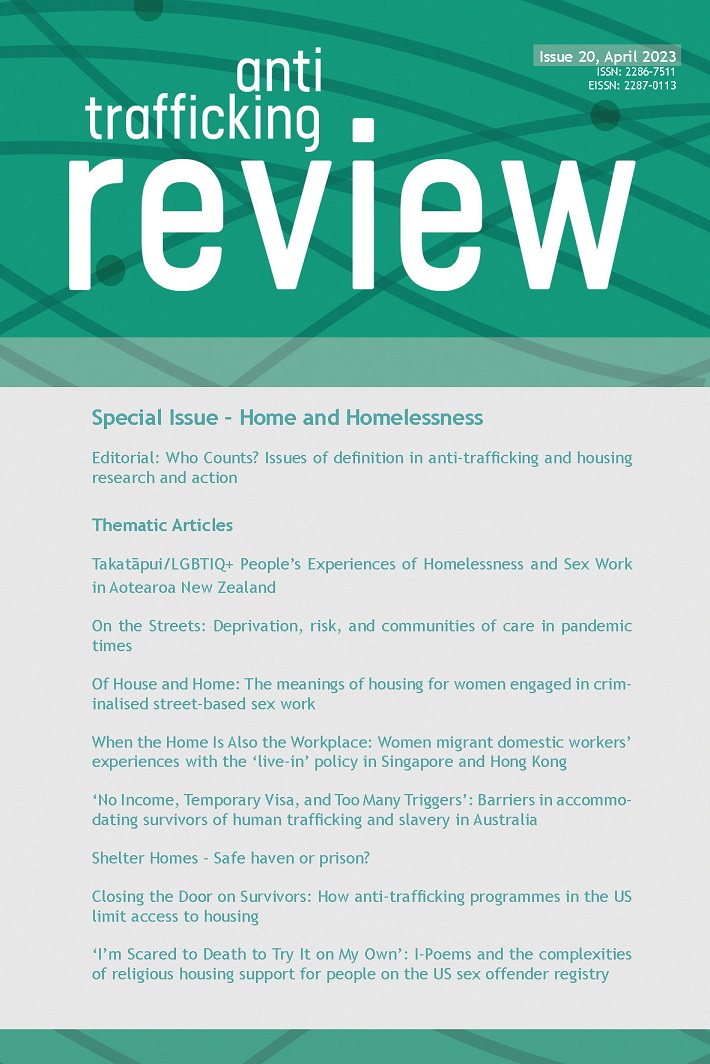 How to Cite
Romero, K., Torres, T., Jones, A., & Dacosta-Reyes, C. (2023). Closing the Door on Survivors: How anti-trafficking programmes in the US limit access to housing. Anti-Trafficking Review, (20), 135–143. https://doi.org/10.14197/atr.201223208
License
This work is licensed under a Creative Commons Attribution 4.0 International License.
The Anti-Trafficking Review has a policy of licensing under the Creative Commons Attribution License (CC-BY). Under the CC-BY license, the public is free to share, adapt, and make commercial use of the work. To protect our work and that of our authors, however, users must always give proper attribution to the author(s) and the Anti-Trafficking Review (i.e. with a complete bibliographic citation and link to the Anti-Trafficking Review website and/or DOI).
The Anti-Trafficking Review promotes the sharing of information, and we therefore encourage the reproduction and onward dissemination of articles published with us.