'Now More Than Ever, Survivors Need Us': Essential labouring and increased precarity during COVID-19
Keywords:
essential labour, precarity, COVID-19, inequalities, critical trafficking studies
Abstract
During the earliest waves of the COVID-19 pandemic, much media and public discourse focused on the effects of increasing precarity on already vulnerable populations. As in-person work added a layer of viral risk and unemployment drastically exacerbated economic precariousness, the category of 'essential worker' gained new prominence in these conversations. In this paper, we focus on the complicated relationship between two groups of workers depicted as marginalised and exploited to different degrees during COVID-19: trafficked persons and anti-trafficking service providers. Though media coverage did not conflate these groups, it applied a capacious understanding of precarious labour and structural inequalities that encapsulated different types of essential work. We draw on media produced by frontline anti-trafficking and sex workers' rights organisations between March and May 2020. Even with renewed attention to macro-level harms, many publications still emphasised individualism over collectivity. This emphasis on singular organisational representatives—frontline workers—as heroic rescuers mirrored larger, normative anti-trafficking discourses. At the point at which the 'new normal' was nowhere in sight, COVID-19 served as a flashpoint to reconsider current intervention strategies and instead emphasise a critique of precarious labour along multiple vectors.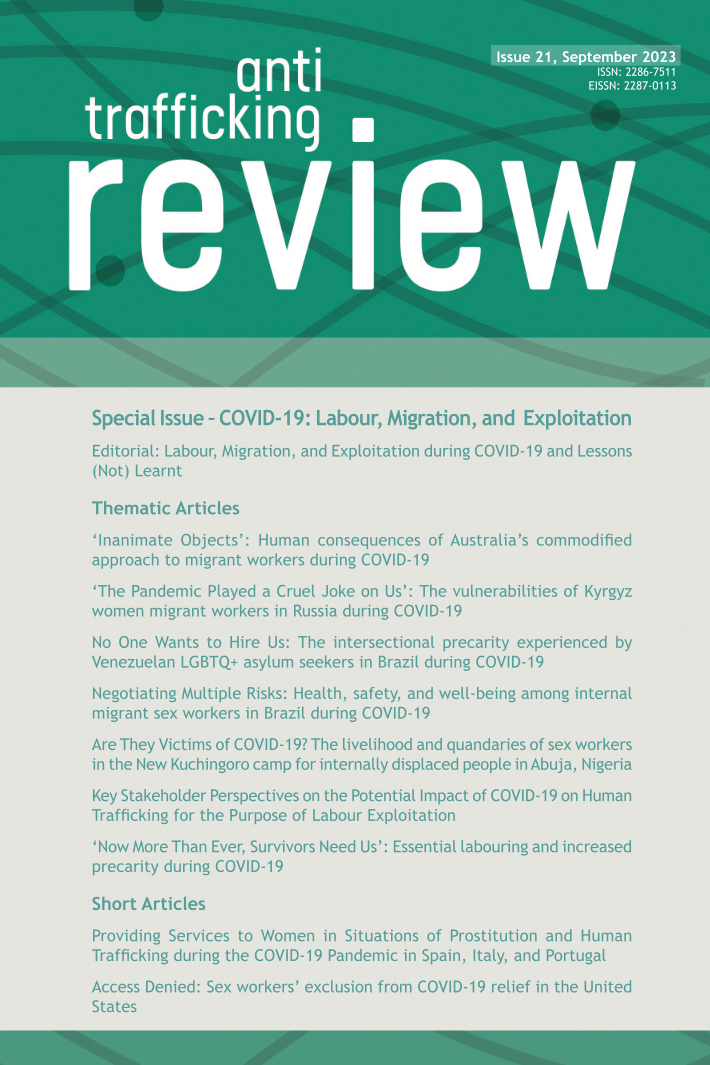 How to Cite
Schwarz, C., Britton, H., Nay, E., & Holland, C. (2023). 'Now More Than Ever, Survivors Need Us': Essential labouring and increased precarity during COVID-19. Anti-Trafficking Review, (21), 121–139. https://doi.org/10.14197/atr.201223218
License
This work is licensed under a Creative Commons Attribution 4.0 International License.
The Anti-Trafficking Review has a policy of licensing under the Creative Commons Attribution License (CC-BY). Under the CC-BY license, the public is free to share, adapt, and make commercial use of the work. To protect our work and that of our authors, however, users must always give proper attribution to the author(s) and the Anti-Trafficking Review (i.e. with a complete bibliographic citation and link to the Anti-Trafficking Review website and/or DOI).
The Anti-Trafficking Review promotes the sharing of information, and we therefore encourage the reproduction and onward dissemination of articles published with us.