Providing Services to Women in Situations of Prostitution and Human Trafficking during the COVID-19 Pandemic in Spain, Italy, and Portugal
Abstract
This short article discusses the challenges faced by women engaging in prostitution/sex work or in situations of trafficking for sexual exploitation during the COVID-19 pandemic. These included housing and food insecurity, violence, failure by the police to identify them as trafficked persons, lack of social assistance, and the inability to renew residence and work permits. The article also presents the support provided to women by the NGO Hermanas Oblatas in Spain, Portugal, and Italy.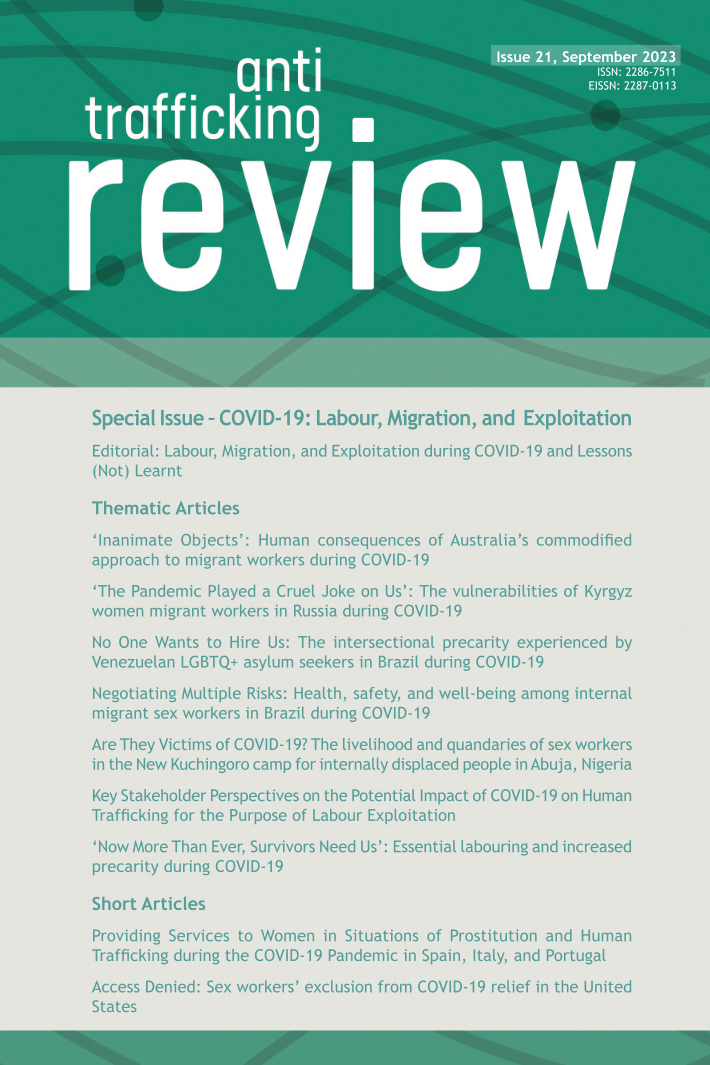 How to Cite
García-Vázquez, O., & Meneses-Falcón, C. (2023). Providing Services to Women in Situations of Prostitution and Human Trafficking during the COVID-19 Pandemic in Spain, Italy, and Portugal. Anti-Trafficking Review, (21), 141–144. https://doi.org/10.14197/atr.201223219
License
This work is licensed under a Creative Commons Attribution 4.0 International License.
The Anti-Trafficking Review has a policy of licensing under the Creative Commons Attribution License (CC-BY). Under the CC-BY license, the public is free to share, adapt, and make commercial use of the work. To protect our work and that of our authors, however, users must always give proper attribution to the author(s) and the Anti-Trafficking Review (i.e. with a complete bibliographic citation and link to the Anti-Trafficking Review website and/or DOI).
The Anti-Trafficking Review promotes the sharing of information, and we therefore encourage the reproduction and onward dissemination of articles published with us.