Access Denied: Sex workers' exclusion from COVID-19 relief in the United States
Abstract
This short article provides an overview of the US government's response to COVID-19 and the exclusion of sex workers from pandemic relief. It details the impacts of this exclusion, including how sex workers and advocates were forced to prioritise emergency service provision over longer-term policy goals. The article concludes that the exclusion of sex workers from COVID-19 relief is part of the US government's broader history of discriminating against people involved in the sex trades and hindering advancements in policies to protect sex workers' human rights.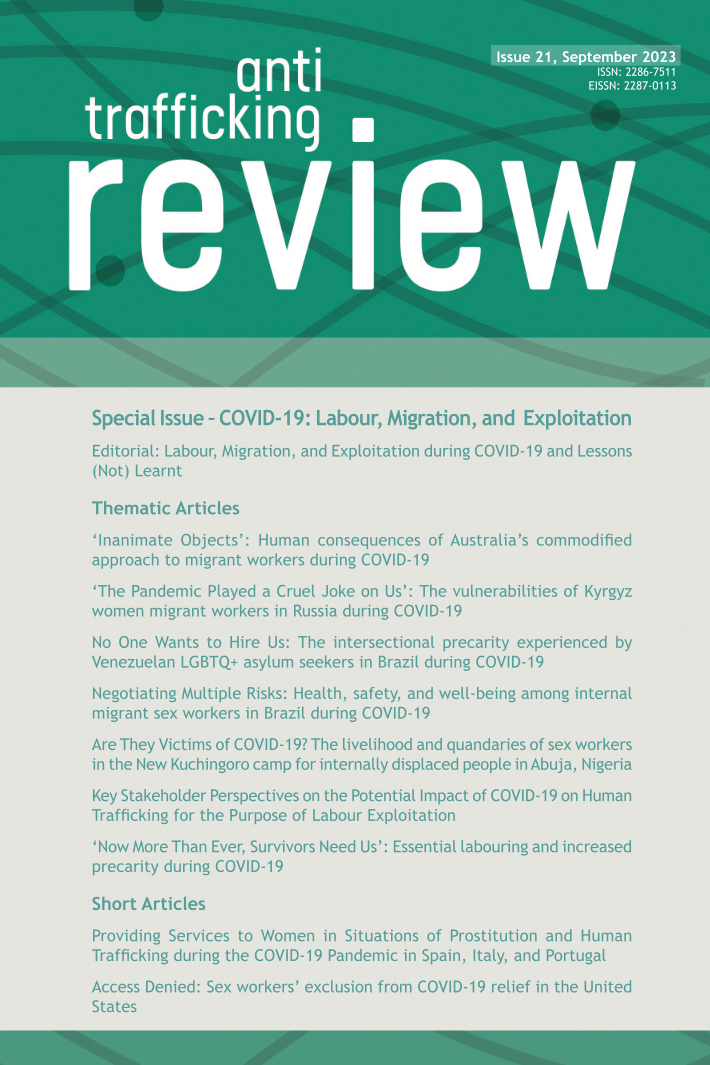 How to Cite
Grant, M. (2023). Access Denied: Sex workers' exclusion from COVID-19 relief in the United States. Anti-Trafficking Review, (21), 145–150. https://doi.org/10.14197/atr.2012232110
License
This work is licensed under a Creative Commons Attribution 4.0 International License.
The Anti-Trafficking Review has a policy of licensing under the Creative Commons Attribution License (CC-BY). Under the CC-BY license, the public is free to share, adapt, and make commercial use of the work. To protect our work and that of our authors, however, users must always give proper attribution to the author(s) and the Anti-Trafficking Review (i.e. with a complete bibliographic citation and link to the Anti-Trafficking Review website and/or DOI).
The Anti-Trafficking Review promotes the sharing of information, and we therefore encourage the reproduction and onward dissemination of articles published with us.