Trafficking in Persons for Ransom and the Need to Expand the Interpretation of Article 3 of the UN Trafficking Protocol
Keywords:
Ransom, Trafficking, Trafficking Protocol, Torture, Exploitation, forced begging, debt bondage, Eritreans, migration, kidnapping
Abstract
As the nature of trafficking in persons continues to manifest itself in myriad ways all over the world, interpretation of the UN Protocol to Prevent, Suppress and Punish Trafficking in Persons, Especially Women and Children (Trafficking Protocol), should be broadened to include newly emerging practices that are similar in nature to those it has already embraced under its definition. The Protocol appears to encompass other forms of trafficking which are unnamed or unforeseen by the definition provided under Article 3. It is time to expand its spectrum. Northeast Africa is plagued by a unique form of trafficking in persons—trafficking in persons for ransom. This involves a practice where people are smuggled, abducted, kidnapped and tortured to compel their relatives and families to pay ransom money. Victims are nationals of Eritrea, Ethiopia, Sudan and South Sudan. However, as Northeast Africa hosts particularly high numbers of Eritrean migrants and the largest Eritrean diaspora globally, Eritreans are very vulnerable to being targeted for trafficking for ransom. As trafficking for ransom is an emerging trend, legal ramifications have never been studied in full. Few reports try to address legal issues around the phenomenon, and those that do only give it a few paragraphs of attention. There is need for a closer look at this form of trafficking.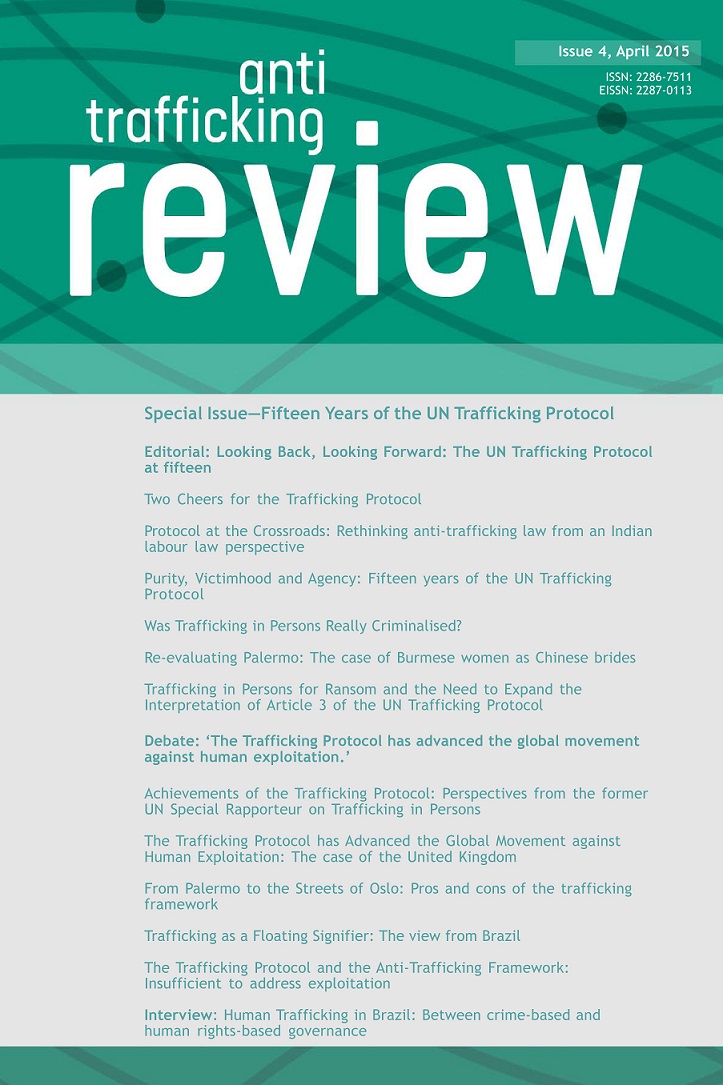 How to Cite
Brhane, M. O. (2015). Trafficking in Persons for Ransom and the Need to Expand the Interpretation of Article 3 of the UN Trafficking Protocol. Anti-Trafficking Review, (4). https://doi.org/10.14197/atr.20121547
License
The Anti-Trafficking Review has a policy of licensing under the Creative Commons Attribution License (CC-BY). Under the CC-BY license, the public is free to share, adapt, and make commercial use of the work. To protect our work and that of our authors, however, users must always give proper attribution to the author(s) and the Anti-Trafficking Review (i.e. with a complete bibliographic citation and link to the Anti-Trafficking Review website and/or DOI).
The Anti-Trafficking Review promotes the sharing of information, and we therefore encourage the reproduction and onward dissemination of articles published with us.