What's Wrong with the Global Slavery Index?
Keywords:
human trafficking, slavery, modern slavery, measurement, assessment, Global Slavery Index
Abstract
The Global Slavery Index (GSI), which has been produced by the Walk Free Foundation in 2013, 2014 and 2016, seeks to calculate the number of victims of human trafficking (or 'modern slavery') in each country and to assess and rank government responses. Using the latest iteration of the Index, this article examines each of the three elements (vulnerability measurement; prevalence measurement and response measurement), making some preliminary findings about the quality of the methodology and its application under each heading. It concludes with a consideration of two broader issues: (i) the conspicuous lack of critical engagement with the Index; and (ii) what the Index reveals about the changing face of anti-trafficking/anti-slavery work—most particularly, the growing involvement of metrics-focused strategic philanthropy in defining the 'problem' and directing responses.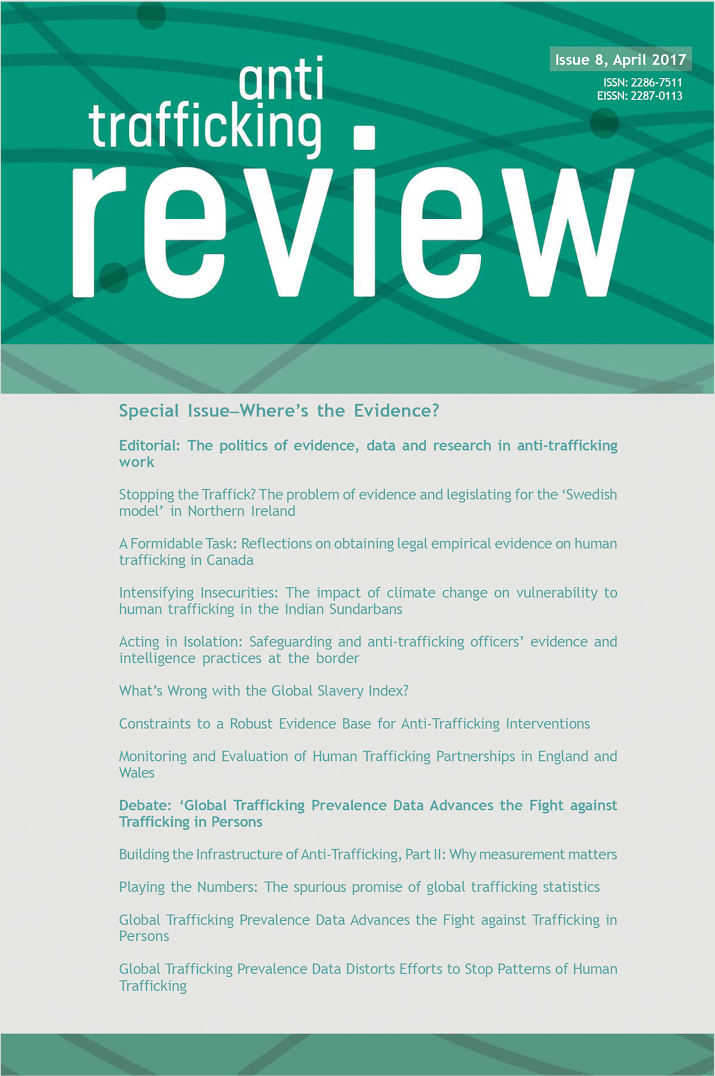 How to Cite
Gallagher, A. T. (2017). What's Wrong with the Global Slavery Index?. Anti-Trafficking Review, (8). https://doi.org/10.14197/atr.20121786
License
The Anti-Trafficking Review has a policy of licensing under the Creative Commons Attribution License (CC-BY). Under the CC-BY license, the public is free to share, adapt, and make commercial use of the work. To protect our work and that of our authors, however, users must always give proper attribution to the author(s) and the Anti-Trafficking Review (i.e. with a complete bibliographic citation and link to the Anti-Trafficking Review website and/or DOI).
The Anti-Trafficking Review promotes the sharing of information, and we therefore encourage the reproduction and onward dissemination of articles published with us.