Constraints to a Robust Evidence Base for Anti-Trafficking Interventions
Keywords:
human trafficking, forced labour, anti-trafficking, monitoring and evaluation, impact assessment, results, evidence
Abstract
Over fifteen years after the UN Trafficking Protocol was adopted, the evidence available to determine how much progress has been made in combatting human trafficking remains very limited. This paper provides a practitioner's perspective on some of the main reasons for the continuing lack of meaningful results documented in the context of anti-trafficking projects. A key finding is that limitations in the practice of monitoring and evaluation (M&E) pose the greatest constraint rather than the clandestine nature of trafficking in persons. There are currently few incentives to be rigorous in pursuing evidence, especially of the contribution made to long-term reductions in human trafficking. Bean counting the direct outputs of activities rather than assessing the outcomes that are intended to flow from them remains the core approach to M&E in the sector. Because the collection and analysis of data has not been prioritised, anti-trafficking initiatives without a strong empirical basis are reflexively continued for years–particularly notable in some of the untested assumptions about the central importance of an effective criminal justice response. Increased commitment by donors and practitioners to raise their standards of evidence for anti-trafficking projects is necessary to move beyond basic accountability and start leveraging learning, including greater willingness to document in rich detail where interventions have failed to produce their intended outcomes.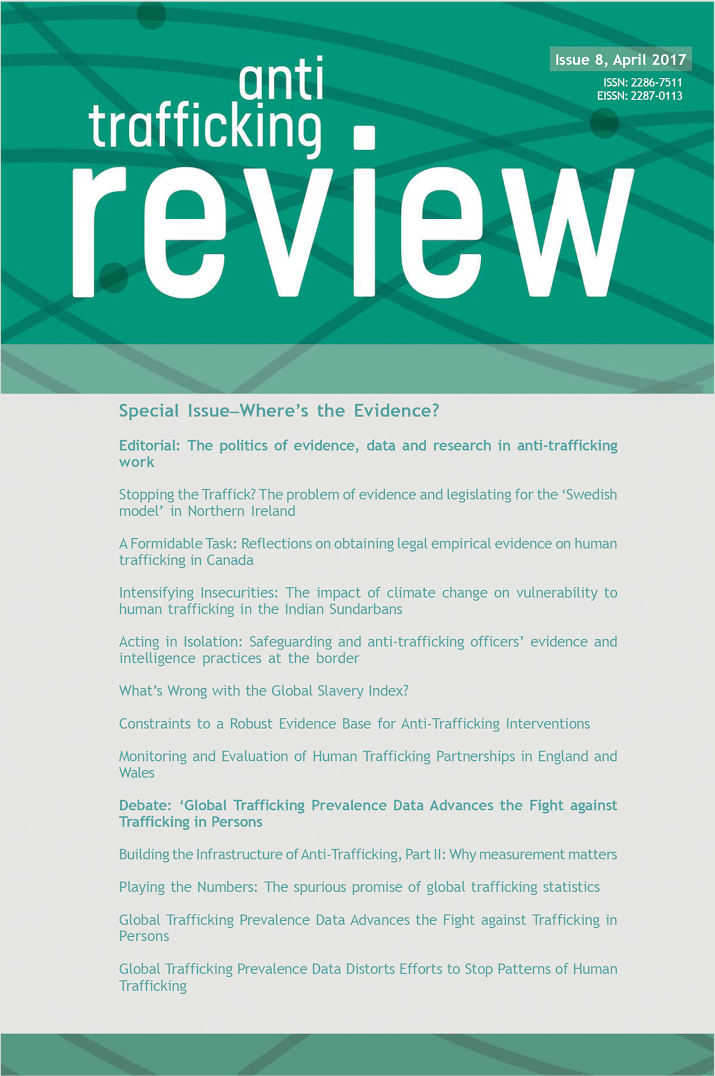 How to Cite
Harkins, B. (2017). Constraints to a Robust Evidence Base for Anti-Trafficking Interventions. Anti-Trafficking Review, (8). https://doi.org/10.14197/atr.20121787
License
The Anti-Trafficking Review has a policy of licensing under the Creative Commons Attribution License (CC-BY). Under the CC-BY license, the public is free to share, adapt, and make commercial use of the work. To protect our work and that of our authors, however, users must always give proper attribution to the author(s) and the Anti-Trafficking Review (i.e. with a complete bibliographic citation and link to the Anti-Trafficking Review website and/or DOI).
The Anti-Trafficking Review promotes the sharing of information, and we therefore encourage the reproduction and onward dissemination of articles published with us.