Editorial: Moving Forward—Life after trafficking
Abstract
Spectacular stories of life in trafficking saturate the media, politicians' speeches, and non-governmental organisations' fundraising campaigns. With so much focus on stories of brutality, or of dramatic escapes and rescues, there has been little attention to what happens after trafficking. This special issue of the Anti-Trafficking Review shines a light on trafficking outcomes—both for those who have been labelled by state actors or the NGO sector as trafficked, as well as those whose exploitation garnered no legal protections or service provision. The volume puts centre stage the challenges and successes after trafficking that largely have unfolded off stage. It points to contradictions, slippages, missed opportunities, and failings.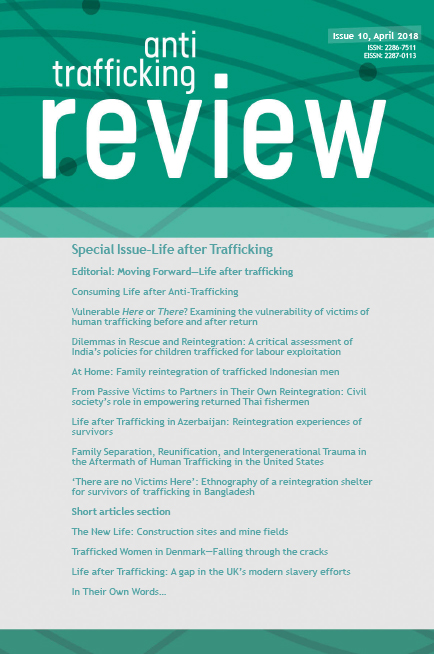 How to Cite
Brennan, D., & Plambech, S. (2018). Editorial: Moving Forward—Life after trafficking. Anti-Trafficking Review, (10). https://doi.org/10.14197/atr.201218101
License
The Anti-Trafficking Review has a policy of licensing under the Creative Commons Attribution License (CC-BY). Under the CC-BY license, the public is free to share, adapt, and make commercial use of the work. To protect our work and that of our authors, however, users must always give proper attribution to the author(s) and the Anti-Trafficking Review (i.e. with a complete bibliographic citation and link to the Anti-Trafficking Review website and/or DOI).
The Anti-Trafficking Review promotes the sharing of information, and we therefore encourage the reproduction and onward dissemination of articles published with us.