No. 10 (2018): Special Issue - Life after Trafficking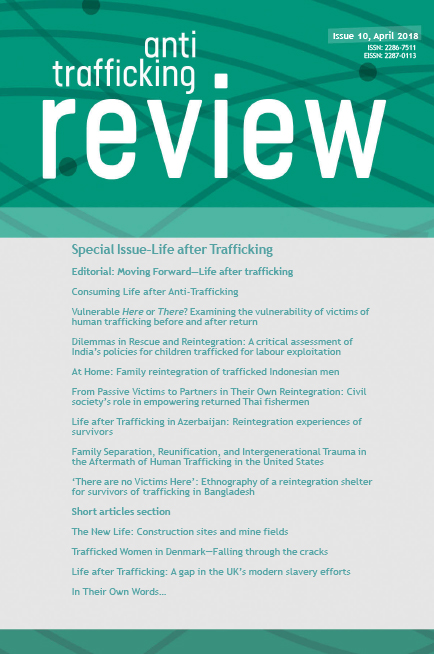 Media, policymakers and NGOs typically focus on the horrors of life in trafficking and 'rescuing' trafficked persons, but much less attention is paid to life after trafficking. This special issue of the Anti-Trafficking Review documents the challenges that people face after exiting situations labelled as trafficking, as well as those whose exploitation garnered no legal protections or service provision.
It introduces cases of life after trafficking in countries with robust anti-trafficking legal and care regimes, as well as in countries that offer little or no assistance. Contributions from countries as diverse as India, Thailand, Azerbaijan, the United States, Bangladesh, Indonesia, Denmark, United Kingdom and Switzerland highlight the lack of appropriate and comprehensive support for survivors after trafficking, as they struggle with family reunification, legal recognition and compensation, and long-term assistance. However, this issue also shows that ultimately, by taking back control of one's life, and tending to ordinary tasks and chores of resettlement, formerly trafficked persons move beyond the extraordinary cruelty of exploitation.