OECD and Modern Slavery: How much aid money is spent to tackle the issue?
Keywords:
modern slavery, international development assistance, foreign aid, OECD, DAC, donor governments, human trafficking, IATI,
Abstract
The Organisation for Economic Co-operation and Development (OECD) donor countries spend millions of dollars each year on programmes to end modern slavery across the globe. Exactly how much is spent, however, has previously been unclear. The Walk Free Foundation has conducted research to estimate how much these countries are spending.
This article examines international spending on modern slavery programmes by twelve OECD countries, explores how countries report on modern slavery funding and, ultimately, hopes to serve as a building block for broader discussions about donor spending on anti-slavery initiatives.
A major finding of the article is that between 2003 and 2012, donor countries contributed a combined average of USD 124 million annually, predominantly funding projects in Southeast Asia, Eastern Europe and Sub-Saharan Africa.
La OCDE y las formas modernas de esclavitud: ¿cuánta ayuda monetaria se destina a afrontar el problema?
Resumen
Todos los años, los países donantes de la Organización de Cooperación y Desarrollo Económicos (OCDE) gastan millones de dólares en programas destinados a acabar con las formas modernas de esclavitud en todo el mundo; no obstante, la cantidad exacta de este gasto no ha quedado clara hasta la fecha. La Walk Free Foundation ha llevado a cabo una investigación destinada a calcular cuánto están gastando estos países.
Este artículo analiza el gasto internacional en programas relacionados con las formas modernas de esclavitud realizado por doce países de la OCDE, analiza cómo informan los países acerca de la financiación en esta materia y, en última instancia, tiene la esperanza de servir como piedra angular para generar debates a mayor escala acerca del gasto de los donantes en iniciativas contra la esclavitud.
Uno de los mayores descubrimientos del artículo es que, entre 2003 y 2012, los países donantes aportaron una media combinada de 124 millones de dólares anuales, destinados en su mayoría a financiar proyectos en el sureste de Asia, en el este de Europa y en el África subsahariana.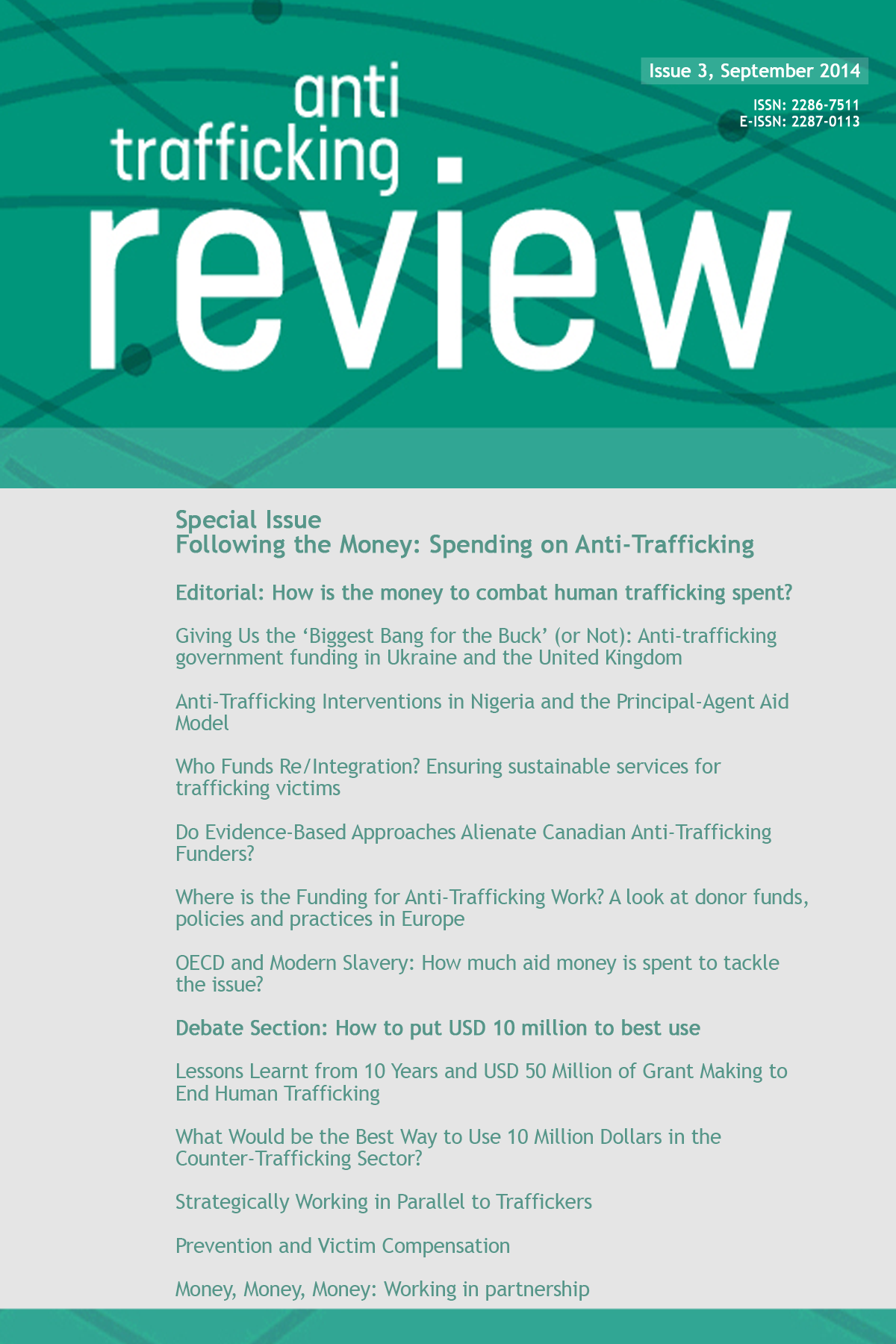 How to Cite
Ucnikova, M. (2014). OECD and Modern Slavery: How much aid money is spent to tackle the issue?. Anti-Trafficking Review, (3). https://doi.org/10.14197/atr.20121437
License
The Anti-Trafficking Review has a policy of licensing under the Creative Commons Attribution License (CC-BY). Under the CC-BY license, the public is free to share, adapt, and make commercial use of the work. To protect our work and that of our authors, however, users must always give proper attribution to the author(s) and the Anti-Trafficking Review (i.e. with a complete bibliographic citation and link to the Anti-Trafficking Review website and/or DOI).
The Anti-Trafficking Review promotes the sharing of information, and we therefore encourage the reproduction and onward dissemination of articles published with us.