Most Read Articles
About the Journal
The Anti-Trafficking Review is the first open access, peer reviewed journal dedicated to the issue of human trafficking. It explores trafficking in its broader context and intersections with gender, labour, and migration. 
Each issue relates to an emerging or overlooked theme in the field of human trafficking. The Review's focus is global in nature, exploring micro and macro levels of anti-trafficking responses and the commonalities, differences. and disconnects in between.
The journal contributes to the achievement of the Sustainable Development Goals, in particular Goal 5 (Gender Equality), 8 (Decent Work and Economic Growth) and 16 (Peace, Justice and Strong Institutions). 
Current Issue
No. 21 (2023): Special Issue - COVID-19: Labour, Migration, and Exploitation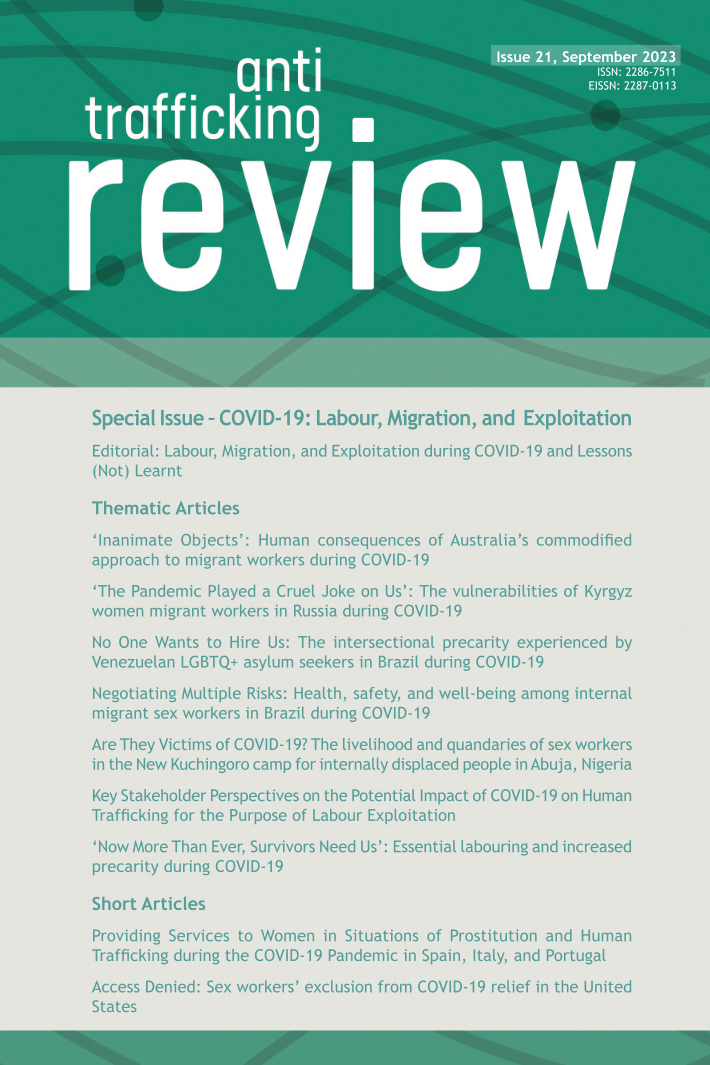 This Special Issue of Anti-Trafficking Review examines the impact of the COVID-19 pandemic on the lives of low-wage, migrant, and informal workers. With contributions from Australia, Kyrgyzstan, Russia, Europe, Nigeria, Brazil and the United States, it describes the experiences of temporary migrants, victims of trafficking, sex workers, internally displaced persons, and LGBTQ asylum seekers with violence, exploitation, discrimination, racism, and (lack of) access to healthcare and social protections. It also highlights the work of civil society organisations who stepped in to provide lifesaving support to people abandoned by the state. Importantly, contributors draw lessons from the pandemic and make policy and practice recommendations how to ensure that future disasters do not have the same negative impact on human rights.
View All Issues
Forthcoming Special Issues:
April 2024: Armed Conflicts: Migration, Trafficking, and Labour Markets
September 2024: Following the Money II (call for papers) 
The Review is covered by the following abstracting and indexing services:
Ulrich's
Ebsco Host
Web of Science
Scopus
Directory of Open Access Journals
eGranary
e-journals.org
ProQuest
Google Scholar
Science Open
CNKI Scholar
The Anti-Trafficking Review is published by the Global Alliance Against Traffic in Women (GAATW), an alliance of over 80 NGOs worldwide focused on advancing the human rights of migrants and trafficked persons.
---
'a journal that is seeking to move things forward through new ideas and a genuine commitment to dialogue' - Anne T. Gallagher, Independent scholar and legal advisor
'The Anti-Trafficking Review is clear about the current issues, the complications of the subject and contemporary global dialogues--it is leading versus following and recording. That is a REAL strength of your journal.' - Cathy Zimmerman, London School of Hygiene and Tropical Medicine
'The Review is a platform for academics and practitioners, providing a space in which practitioners have the chance to influence the academic thinking around trafficking and vice versa.' - Nicola Piper, University of Sydney